Alabama company buys Shelton Trucking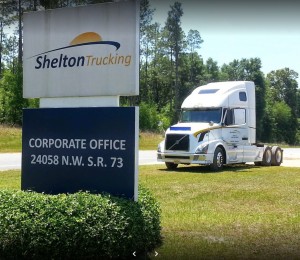 by Teresa Eubanks, Journal Editor
Forty-nine years after starting Shelton's Trucking in Altha with his father, 70-year-old Randy Shelton has sold the business and is getting ready to retire.
PS Logistics out of Birmingham, AL announced the purchase this week.  "We are proud to welcome Shelton to the PS Logistics family," said Scott Smith, PS Logistics CEO. "We look forward to working with their great flatbed drivers and operations staff."
Shelton's son, Josh Shelton, said PS Logistics is a flatbed trucking operation "with a very similar culture to Shelton's."
He said his late grandfather and his father started the business with just one tractor.  "They put together a great company and had a good run with it," he said.
Shelton's Trucking currently employs approximately 245 people at three locations, most of whom work at the corporate site in Altha.  An employee there said about 45 office staff and mechanics are at the Altha headquarters, while there are two office workers at each of the company's terminals in Jacksonville and Mobile, AL. The remaining employees are truck drivers.
PS Logistics was founded in 2004 and has added 11 trucking and brokerage operations since 2007. Financial terms of the deal were not disclosed in the news release from the Birmingham business.
Shelton Trucking's 225-truck flatbed fleet will be added to PS Logistics' 2,400 trucks.  The Alabama-based company serves customers primarily in the oil and natural gas, building materials and steel industries.
"When my father and I started Shelton in 1969, he managed the office and I was its sole driver," Randy Shelton, president and cofounder of Shelton, was quoted as saying in a news release from PS Logistics.  "Over the next 49 years we built a successful flatbed trucking operation serving outstanding customers with dedicated employees. I am pleased that PS Logistics will continue that tradition with the same dedicated employees and commitment to service."