BHS Football Head Coach Greg Jordan resigns to lead long-time rival Port St. Joe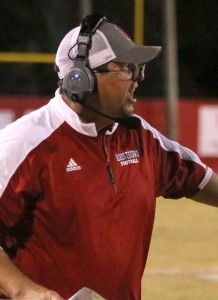 by Michael DeVuyst,
contributing writer
Six weeks after leading his alma mater to the Class A Football State Finals, Blountstown head football coach Greg Jordan has resigned from that position and has been hired to coach the Port St. Joe Tiger Sharks next season.
Coach Jordan leaves after 30 plus years of being a Blountstown Tiger.  Jordan attended elementary school, middle school and high school in Blountstown.  A 1987 graduate of Blountstown High School, Jordan played all three major varsity sports and was the starting QB for the Tigers for three seasons.
After college graduation, Jordan started his career with the Calhoun County School Board at Altha Public School as a teacher/basketball/baseball coach in 1996.  Coach Jordan moved to Blountstown Middle School in 1998 and started working as an assistant football coach at the high school level. Nineteen-ninety-nine brought about another move to the PE position at Blountstown High School where he took on the head baseball position and remained as a football assistant coach.  Jordan compiled eight years of being an assistant football coach under three different coaches when he left Blountstown to be the head coach at Wewahitchka in 2005.  There, he took the Gators to the playoffs with an 8-3 record.  Jordan returned home to Blountstown in 2006 as head football coach and the rest,  as they say,  is history.
Under Jordan's 12 years at the helm in Blountstown he became the winningest coach in school history amassing a record of 105 wins with 39 losses, winning an amazing 73% of his games averaging slightly over eight wins per year.
Jordan's Tigers have made the postseason 11 of 12 seasons including nine consecutive appearances since 2009.  During the 12 year run, the Tigers have won six district titles with five district runner-up finishes, 4 Class A region championships, four state semi-final appearances with two Class A runner-up finishes.  An incredible 25 playoff games have been played adding an entire two and a half seasons worth of games for players and fans to enjoy.
Ironically, Coach Jordan's most memorable Blountstown victory was the first of his 105.
The game was a 29-28 thriller in Port St. Joe against the defending Class A champions that opened up the 2006 season. The Tigers converted a 2-point play in the final seconds of the game to seal the victory.  Coach Jordan has faced Port St. Joe 14 times at Blountstown going 10-4 against the Tiger Sharks  - not including some district tie-breakers.
"It will feel weird coaching for anybody else except Blountstown. That is all I've done," Jordan said. "It has been bred in my DNA to be a Blountstown Tiger and dislike everybody else.  I wish the Blountstown coaches and kids the best of luck all year  - except for one game."
So the big question is with all of the success why would Coach Jordan choose to leave?
"It was a tough decision to leave, but at some point I didn't want to overstay my welcome here and get to the point where they run you out of town," the coach said.  "Unfortunately, coaching success is sometimes remembered as 'what have you done for me lately' and it was important for me to be able to leave on my own terms.  The timing was right.  As of this year, both of my sons will be graduated from high school and that gives my family some flexibility to move on."
Coach Jordan concludes, "We had a good run these last 12 years. The players, fans and community were fantastic to work with.  I was able to coach both of my sons in separate state title games.  We were able to give a lot of kids some great memories and played in some big time football games.  I had some great students and coaches to work with over the years and made a lot of good friends along the way.  I have no regrets over these last 12 years.  It's just time to move on."
Despite leaving the school where he played as well as coached for a rival, he noted the two are not that different.  "There's a lot of commonalities between the two programs," he said in a t.v. interview.  "The tradition, the will to win, the desire, the community support. I think there are a lot of things in common between those two programs that will make the transition a little easier."
The schools are not far apart in size, with the BHS student population at 426 and St. Joe's at 349.
PSJ's recruiting efforts reportedly included a significant salary increase for their new coach.
Port St. Joe approached Jordan after learning that their coach of 11 years (2001-2007 and 2014-2017), John Palmer, was stepping down due to health issues.  Palmer is staying on in an administrative position.   Under Palmer's guidance, the PSJ Tiger Sharks won state championships in 2005 and 2014.
So what's next for the Blountstown football program?  A search committee is in the process of being formed and applications will be accepted and reviewed for the vacancy.  A new head coach should be announced prior to spring practice in April.