Man in custody after battering mom & urging deputies to shoot him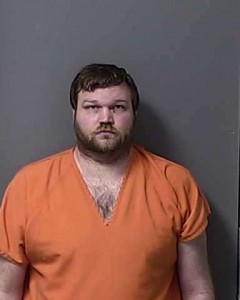 by Teresa Eubanks, Journal Editor
A 38-year-old Blountstown man was charged with battery and resisting arrest with violence after deputies were called to his home following a disturbance last week.
"You better call for someone to help you, he's too strong," Stephen Ayers' mother told Deputy Jessica Page when she arrived at their Blountstown residence on Jan. 16.
She stated that her son had pushed her down the back door steps, poured alcohol on her and then locked her out of the house. She said he got more upset when she used a spare key to get back in the house, found his alcohol and poured it out. He then began destroying her bedroom, pulled out drawers from the dresser and threw things around, she said.
As Lt. Todd Wheetley arrived, a white male - identified as Ayers - walked around from the back of the home and started yelling.
The arrest report stated that Ayers was acting erratically, waving his arms in the air, screaming obscenities and telling law enforcement officers to shoot him.
Wheetley approached Ayers, spoke with him and started to get him calmed down. Ayers would look up at the sky, shout and curse, and then look back at the investigator and speak calmly with him. Ayers admitted that he had been drinking.
Wheetley told him he would be taken into custody and as Ayers was being handcuffed, he stated, "there goes the cuff" and lunged forward as the two law enforcement officers tried to secure his wrists.
Ayers continued to resist and was taken to the ground. He then urged them, "do what y'all have to do."
Once he was secured in the back of a patrol car, Ayers became angry and told Wheetley that he had all the authority "and I could care less." He then laid across the seat and began kicking the door and window.
The patrol car was not damaged. The victim declined a medical evaluation.
Ayers is being held without bond.