Nilsa Prowant completes 1st season on MTV reality show in Panama City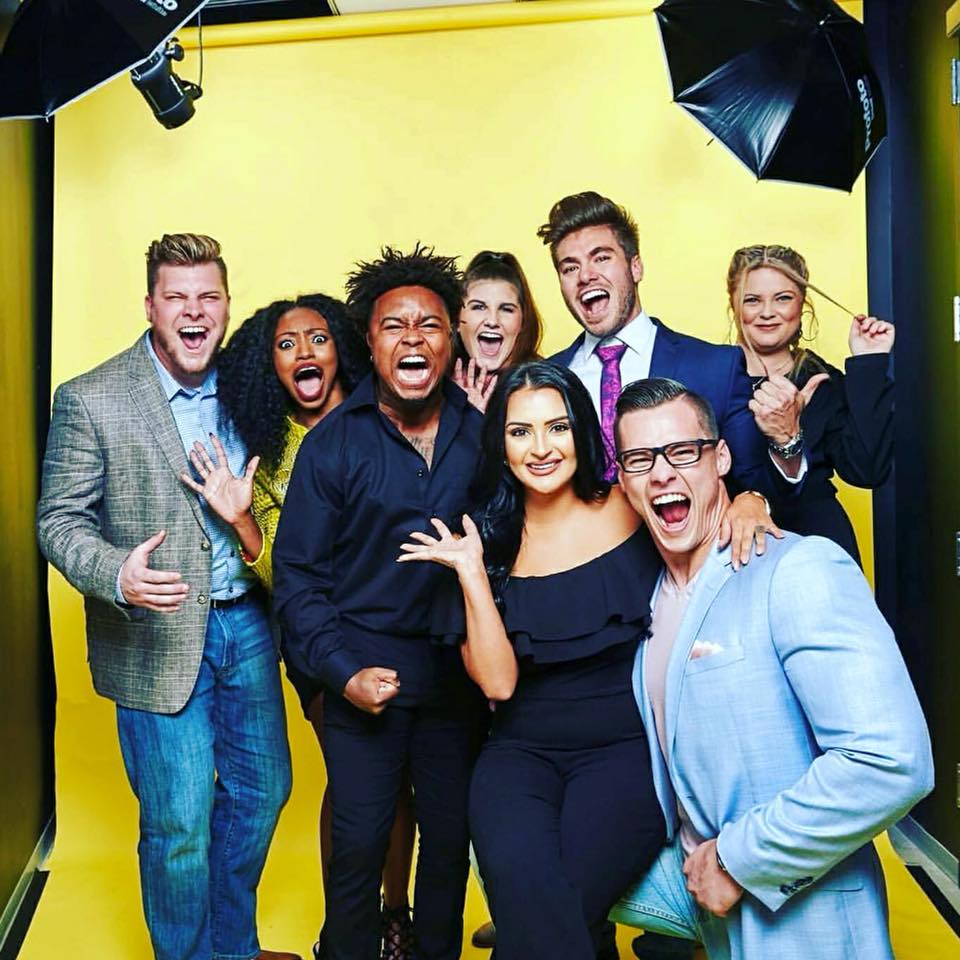 by Teresa Eubanks, Journal Editor
Nilsa's going back to the beach house.
After a quick eight-episode run, former Clarksville resident Nilsa Prowant will reunite with her seven cast mates on MTV's new reality show, Floribama Shore. Regular watchers of MTV have avidly followed the first short season of the series, which brings together twenty-somethings from varied backgrounds who are looking for fun on Panama City Beach while struggling with the challenges of love, lust and emotional confusion between drunken brawls and personal revelations.
Between the tears, the arguments and the emotional breakdowns, the series showcases Panama City Beach. Cast members show up in local restaurants like Firefly and storm into bars where they quickly whip up some drama.
Once in a while, they even make it to the beach.
FROM BHS TO MTV
The former Blountstown High School cheerleader who went on to cheer at Chipola College while earning her cosmetology degree has no qualms about being on camera.
Since childhood, she's been involved in beauty pageants and won several titles. She's become a fixture on the beach, where she's worked at several restaurants and bars, often as a server and other times taking part in special promotions for alcohol as well as clothing. Her Instagram showcases a revolving display of modeling photos, family pictures and partying snapshots. She's quick to ask her followers for opinions on her makeup and hair photos.
Despite having just turned 24, she's got a lot of life experience to share on the show and doesn't flinch when asked about her miscarriage, her divorce or her numerous surgical enhancements.
She says she got breast implants in 2015 to feel better about herself after a miscarriage and the failure of her three year marriage to a Marine who she said cheated on her. Twice.
Every six months or so she has injections to make her lips fuller.
She also advocates the use of Botox, which she says give her well-manicured eyebrows an arch.
"It's not a big deal," she said about fine-tuning her appearance surgically. "If you don't like something about yourself, it's OK to get it fixed. Why do people go to the gym? To improve something. It's the same thing."
With her dark hair and Panamanian heritage (her dad, Todd Prowant, met her mom, Yadira, while he was stationed in the Central American city of Panama) along with her trademark black eyeliner, she could be mistaken for one of the Kardashian sisters. But at just 5 foot and one inch tall, she's often compared to the reality star Snookie of Jersey Shore fame.
In fact, Floribama Shore is being produced by SallyAnn Salsano, who brought MTV the hit Jersey Shore, along with several other reality shows, including the recent pairing of Martha Stewart and Snoop Dog's VH1 show, Martha & Snoop's Potluck Dinner.
The beach format is working for MTV. The network has several local versions of the original Jersey Show including Siesta Key, set on a barrier island off Sarasota County, Florida. Similar shows around the world include Geordie Shore in the UK, Gandia Shore in Spain, Warsaw Shore in Poland, along with both Super Shore and Acapulco Shore in Mexico.
MAKING THE CUT
So how did Nilsa get hired for Floribama?
"I had no idea they were filming a show in Panama City until one of my friends started a jet ski rental company. He had just opened it and me and my best friend, Shayla, from Blountstown, went to check it out," Nilsa explained.
The girls decided to go for a swim while their friend stepped away to talk with a couple of men he said were MTV producers who wanted to interview him for a new show.
When they came out of the water and sat down on the beach, the producers approached Nilsa and Shayla and asked if they'd like to interview for a part on a new show.
Nilsa quickly replied "sure" but was quick to tell them, "..but I'm not going to fill out a million pieces of paper. You can ask me all the questions you want but I don't do paperwork."
They interviewed her with their iPhones. She was skeptical. "I didn't think it was legit…but whatever," but she responded to their questions. She was asked to do another interview the next day. "I started getting phone calls from this production company who was hired by MTV to produce this show. Then I had to do all these background checks and medical checks…then a bunch of Skype interviews. I had to send them a bunch of videos from my Snapchat about me and my life," she said.
Producers had been in Panama City for two months before that meeting on the beach. At that point, they had interviewed hundreds of twenty-somethings for the show. They had already cast a group of eight but decided it wasn't working and had to start over, recasting four of them. When 14 people were gathered in a hotel for three days for a final series of interviews, Nilsa made the cut.
"A couple of weeks later, I was moved into the house," she said.
MOM'S ADVICE
Reality shows revolve around arguments, hookups and heartbreaks. Nilsa - who has been an avid watcher of reality programs through the years - had an intimate moment of her own documented when she brought home a man she had just met. One of the many Go-Pro cameras - which include night vision capabilities - are strategically located throughout the house, including her bedroom.
"A lot of people can relate to that - meeting a guy, sleeping with him on the first night and then regretting it," she said. She discussed having second thoughts afterwards with her roommate, Aimee.
But what did Nilsa's mom think about it?
"She said that if we have a Season Two, not to do that," Nilsa replied.
She's equally open with her personal history, talking on the phone with her ex-husband, and is quick to tell someone off when angered. She's also been seen diving in to to separate two house mates on the verge of fighting while moments later, she's escorting one to another room to talk it out.
NO SCRIPTS, NO PROMPTS
So, how does it all work? Is there an outline or script as to what should happen between the housemates?
Not according to Nilsa. "They don't tell us to do anything." While they often move in to film a conversation or a tense moment, "they don't make us re-enact anything." She said the 495 Production Company filming this "is probably the only t.v. production company that does not, and will not, make you redo something."
She said 495 CEO SallyAnn Salsano told the housemates, "I'm not here to tell you what to do. You're adults. Play this out. We're all in this together. We're just going to follow you around with cameras…do what you would do in your normal life."
Nilsa said she wouldn't even be able to read and follow a script because she's dyslexic. "I never had good reading skills growing up," she said, and added that her high school grades reflected that. "I just had a rough time in high school academically. I've read probably five books in my life…I'm not a reader," she said.
But how much of what we see is true to life and isn't there the temptation to hype it up a bit for the camera?
"You're only seeing eight hours of my whole summer. Everyone has acted like a drunk, sloppy mess at some time or another and of course, they're going to put that on t.v. 'cos that's funny." She admits that when she was chasing after one of the male housemates, she was only interested in him a short time but most of the footage of that time was used and made it look like something more serious.
Not only do they not have a script, the show didn't even have a name when they started filming, she said. "We didn't even know it was going to be called Floribama Shore until our last day in the house."
The Aimee Day episode was her idea, she said, and explained that her roommate had always defended her and she felt bad she had not always been there for her as well.
In addition to Nilsa, the cast members include:
•Jeremiah Buoni, 22, from Amelia Island, FL;
•Codi Butts, 25, from Westminster, SC;
•Kortni Gilson, 21, from Panama City Beach, FL;
•Aimee Hall, 24, from Perdido, AL;
•Kirk Medas, a 25-year-old from Atlanta, GA;
•Candace Rice, 24, from Memphis, TN;
•Gus Smyrnios, 22, from Tallahassee, FL.
A LITTLE PUBLICITY
The cast appeared on MTV's Total Request Live (TRL) before their Nov. 27, 2017 premier and played a round of "Secret Questions" about their show. Nilsa and her castmate, Gus, were asked, "Over the course of the summer, how many people did Gus make out with?" Gus answered two. Nilsa may not have been sure of the exact number but her response was typically blunt and summed up his season's activities: "Everyone!" she said.
On the Dec. 3, 2017 episode of Saturday Night Live, the show was lampooned with a skit about the group filming in the midst of Hurricane Irma. It was not flattering…but it was funny and it showed that Floribama Shore has made its mark.
LIFE IN THE MTV HOUSE
She said it doesn't take long to get used to living in a house filled with cameras. "It's kind of like once you're in that environment, you get into a routine and you just forget the cameras are there," she said. "They're not in your way, they're not in your face…they're just there filming you." It's also less noticeable because the other housemates are wandering around, too. While the camera crew keeps their distance from the house mates, they can often be seen in the background.
Once in the house, they weren't allowed to have cell phones, t.v. or even a radio. There was a land line where they could stay in touch with family and friends but their social media activity was cut off. "We had one clock on the stove and half the time it wasn't right," she said. Those rules kept them focused on each other, their interaction and reliance on one another by limiting distractions. "We always joked that the world could be ending and we wouldn't know," she said.
She admits that leaving her cell phone behind was a bit of a break for someone like herself who is so active on social media. In fact, "it was kind of like a cleanse," she said. "I wasn't obsessed with social media…I was just figuring myself out, really."
They could have visitors but anyone coming in had to sign a release allowing them to be included on the show if producers thought it added something to the program.
The group of mostly dominate personalities made getting along a challenge. "I think all of us in the house - except perhaps for Cody - are Alphas. We thought that house was going to burn down by the end," she said. "There's a lot more you guys don't see 'cos your only getting to see eight hours of our summer."
There were plenty of stupid arguments that didn't make it into the show. "We fought over grilled chicken…that's how Alpha we are, OK?"
But it was fun. She summarized the experience as "summer camp with a bunch of drunk adults and no counselors."
And she can't wait to do it again.