New ANF District Ranger wants to increase timber harvesting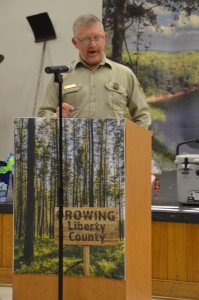 by Teresa Eubanks, Journal Editor
Members gathered for Monday night's annual Liberty County Chamber of Commerce meeting got some good news for a county filled with timber cutters, sawmill workers and truck drivers: The new Apalachicola National Forest (ANF) District Ranger wants to increase timber harvesting.
Ranger Clint Davis, who works out of the district office in Crawfordville, let the gathering know that he grew up in the timber industry in his home state of Arkansas.
"I'm from a logging family," he said, and told the group, "My grandfather is one of the best cross-cut saw workers in the area where I grew up."
He shared his experiences of when he first started with the forest service on Aug. 12, 1991, which began with taking tests on firefighting his first day on the job. "On the third day, I was on the side of a mountain in California fighting a fire." He described his first few days as a little frightening as well as fun, adding, "That was my welcome to the forest service and it's been a great career."
Now, his focus is on the four counties that make up the national forest. Forty-seven percent of the land in Liberty County is national forest. The forest covers 44 percent of Wakulla County land. In Leon County, the percentage of forest land is 23, with just 12 percent in Franklin County.
In 2010, the forest service took over a 1,000 acre site in Calhoun County which was being managed as an experimental forest through the Southern Forest Experiment Station.
It is being used to improve habitat for wildlife (including the gopher tortoise), restore longleaf pine to the predominantly sand and slash pine forest, and to provide a family hunt area, according to a USDA.gov website.
"One of the things I found fascinating is that of the 573,000 acres we've got in the forest, 2,700 acres of that is water - lakes and streams," Davis said, and noted, "You don't find a lot of forests like that."
Figures compiled by retired forestry worker Mac McConnell of Tallahassee show that only 1.1 million cubic feet of the forests' growth is harvested each year. According to McConnell, more timber dies naturally in the forest each year than is harvested: 3.8 million cubic square feet. The forest has over 22 million cubic feet gross annual growth, with the net estimated at 19 million cubic feet.
With the national forest covering nearly half of Liberty County's lands, many have long thought it should be opened up for harvesting to benefit the area by providing wood for local mills and jobs for local workers.
Davis said the forest service is looking to do more stewardship work with environmental groups and local logging interests in hopes of bringing in more jobs.
Helping the community will also help the forest, he told chamber members. "If we can possibly bring more jobs in here and help industry, that helps us and we can spend more money on our roads and recreation areas in the forest."
One of the things we need is some stewardship agreements, some contracts, we've met with some of the purchasers and the Nature Conservancy," he said. "We're looking to do more of that - the stewardship part - to get more work done on the ground."
The biggest hurdle, of course, is the legal process and paperwork, he explained. "It takes a lot of surveying, going through the process, letting all of our constituents - you folks on the ground - look at what we're doing."
He added, "One of the things that's really important to me is our timber management on the forest. We can help out all four counties."