Man charged with kidnapping woman, battering & assaulting her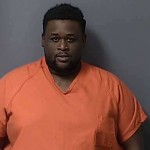 by Teresa Eubanks, Journal Editor
A 911 call from a woman reporting she had been kidnapped resulted in the arrest of a 30-year-old Marianna man.
Following an investigation by the Calhoun County Sheriff's Office, Kendrell Smith was arrested and charged with false imprisonment, domestic battery and assault on Dec. 6.
According to the event report from the sheriff's office, the dispatcher taking the call from the victim reported hearing what sounded like a physical fight between the caller and another person.
The victim said she was in a silver four-door Nissan. Deputies used her cell phone to track her location, which was originally in Altha and later moved to Blountstown.
Dispatch then learned the woman had been dropped off at her mother's home and then taken to the hospital.
The victim said she and her boyfriend, Smith, were in Marianna when they started arguing. She said he told her to get in the car and he'd take her to her mother's home. She said when they got to Calhoun County, he refused to let her out of the car.
When he realized she was on the phone, he hit her in the face, causing her head to hit the inside of the car window. As the two continued south on SR 71 N, the altercation continued and the woman said Smith threatened that he was "going to kill" her. She said she was frightened because he had been "very abusive" in the past.
When she told him her phone was being tracked, she said he took her to her mother's home but still would not let her out. Her mother then came outside, demanded Smith release her and threatened to call deputies if he did not. She was able to get out and he quickly drove away.
Smith was found back in Jackson County and arrested around 11 p.m. that evening on pending warrants from Calhoun County.