Kincer charged with 4 counts of aggravated assault on officers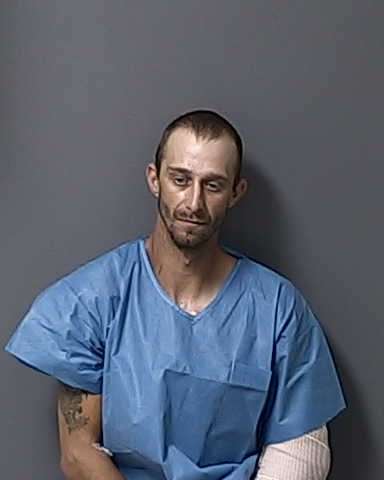 by Teresa Eubanks, Journal Editor
The man who was shot after fleeing from law enforcement officers last week is now in custody.
After being treated for two gunshot wounds in his left arm, Rickie Joe Kincer, 31, of Altha was released from a Bay County hospital Saturday and booked into the Calhoun County Jail.
He was charged with four counts aggravated assault with a motor vehicle on law enforcement officers, driving without a license and fleeing.
Kincer led deputies on a 27-mile chase through Calhoun County on Oct. 2 after he refused to stop for a deputy on Willard Smith Road. Numerous vehicles in both lanes were run off the road as Kincer flew along SR 71 at speeds reaching over 100 mph.
Deputy Colby Beck was parked along SR 20 West when he noticed a maroon four-door Jaguar go past around 3:30 p.m. and saw that the driver was not wearing a seat belt.  After waiting for two other cars to go by, the deputy pulled out to follow the Jaguar driven by Kincer.  The car turned left onto SW Vinson Road and continued on at a high rate of speed.  The deputy turned around to follow Kincer and saw him driving back toward SR 20, where he ran the stop sign at the intersection with Vinson Road and then turned to go west on SR 20.
Beck's report stated that as he tried to get closer to get a tag number, the vehicle sped up.
Kincer turned right onto Willard Smith Road and continued to flee from the deputy, who was following with his lights and siren on.  The dispatcher notified him that Kincer's registration was expired.
The deputy followed as Kincer turned onto Doug Price Road as Sgt. Patrick Crawford  radioed that he was heading that way.  As the two vehicles approached SR 71 N, Crawford - with lights and siren activated -  came from that direction and turned onto Doug Price Road, coming to a stop on the north side of the roadway.  As he approached the patrol vehicle, Kincer steered into Crawford's direction, forcing him to drive into the ditch to avoid a head-on crash, according to the report from the Calhoun County Sheriff's Office.
The Jaguar kept going and turned north onto SR 71 with Beck still in pursuit.  Kincer drove onto the east shoulder of the road in an effort to go around a semi and trailer.  He briefly lost control of the car in the grass before pulling back onto SR 71, where he passed other drivers at over 100 mph, forcing them off the road.
Just before he reached the Altha City Limits, Kincer turned left on Hannah Tower Road and headed north as Altha Police Chief Jimmy Baggett joined Beck and Crawford in the pursuit while Sheriff Glenn Kimbrel and others responded ahead of the chase.
Kincer turned left onto Fuqua Circle, going north, and then turned left on CR 274, made another left and crossed SR 71 North onto Broad Street.   At Fifth Street, he made a left turn and then a right turn to get onto CR 274, heading west.
The three behind Kincer lost sight of him around Willis Bridge but then spotted him making a left turn onto Mark Burke Road.
Beck and Crawford went to Laramore Road, which connects to Mark Burke Road, to set up a roadblock when they saw Kincer heading for them.  The Jaguar stopped about 100 yards from the roadblock, backed up and turned around to go eastbound on Laramore Road with the two in pursuit.  Baggett, who had set up a road black at Mark Burke Road and Laramore Road, was forced to back his vehicle out of the road to avoid a collision as Kincer approached.
Law enforcement officers then headed down Hamilton Spring Road, which dead ends.  On the radio they were alerted that shots had just been fired and drove up to find Kincer's car had hit a fence post.  The sheriff and Lt. Trevor Ramos arrived at the crash and stated Kincer had tried to run over them.
Kincer had fled on foot, leaving behind a trail of blood beginning at the steering wheel, driver's seat and door panel, and continuing along the ground. A K9 team was brought from Calhoun Corrections to the scene.  Kincer was found several hundred yards away standing in a creek and taken into custody.
He was seen by EMS and transported to a Bay County hospital, where he was treated for two gunshot wounds to his left elbow.
The sheriff turned the investigation over to the Florida Department of Law Enforcement since it involved officers using their firearms.