Total of 219 runners complete Saturday's Catfish Crawl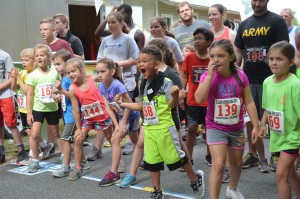 Over 200 runners and walkers from as far away as California took the starting command for the 2017 BFD Catfish Crawl 5K run on Saturday, May 20.
Of the 260 total registered runners, 219 crossed the finish line and were greeted by local queens and volunteers with a cool towel and a Popsicle!
Overall men's winner, 24- year-old Matthew McCurdy of Tallahassee crossed the line in 17:22 and Tallahassee runner Kat Sack took the women's title and set a new course record with a 19:46, barely edging out BHS Cross Country Standout Chelsee Cook's 20:00, who set a new personal best time. BHS Track star Jesse Boyd won the mile run in 5:37, followed closely by Chance Logan in 5:54 and Parker Layne in 6:44.  Haley Heitmeyer was the first female mile finisher with an 8:00.
Race Director Fire Chief Ben Hall attributes some of the increase in turnout to Gulf Winds Track Club. "This was our first year on the GWTC Grand Prix circuit. Many of those Tallahassee runners were here racing for points and that guaranteed a very competitive race!"
The Gulf Winds Track Club Grand Prix is a series if 16 races throughout the year, awarding points to club members based on their finishing order.  At year's end prizes are awarded to those with the most series points.  "We're particularly honored," says Chief Hall, "because of the 16 Grand Prix races only two are outside Leon County.  The Rose City 10K in Thomasville and Catfish Crawl here in Blountstown!"
Although there were some very fast times run, the race was just as accommodating to those who may have taken a little longer to finish. "We are particularly proud of Catfish Crawl's athletic diversity. Whether they finished in 20 minutes or just over an hour, the crowd was cheering for every single runner and every runner, walker and stroller is important to us," says Hall. "Each person who crossed the finish line had to run the same 3.1 miles and should be proud of their accomplishment."
While final numbers are still coming in, Chief Hall says he's certain the scholarship will be fully funded for next year.
"The race wouldn't be what it is without the support of our community, our sponsors, our volunteers and most of all, our runners," according to Hall.  "We've accomplished the goal of making Catfish Crawl a community event, but we're nowhere near finished growing!"
The 2018 BFD Catfish Crawl is already set for May 19.