House fire claims one life Friday morning in Bristol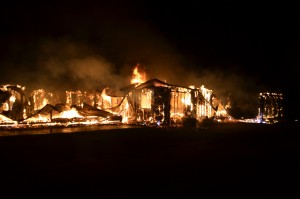 by Teresa Eubanks, Journal Editor
Family and friends are mourning the tragic loss of a man who died in a house fire in Bristol early Friday morning.
The Liberty County Sheriff's Office, the State Fire Marshal's Office and the Florida Department of Law Enforcement are investigating the blaze which leveled a large home at 11524 NW Summers Road.
A neighbor reported the structure fire at 1:47 a.m.  Moments later, there was a series of loud booms after pressure built up in the home's fuel tank.
The residence, owned by Jed and Donna Hiers, was fully engulfed when firefighters arrived at 1:57 a.m.
Firefighters feared the worst when they arrived and saw Jed Hiers' truck parked in the garage.  Bristol Fire Chief Dale Hobby said they discovered a body on a bed in a downstairs room next to the garage around 5:30 a.m.    
The home had been up for sale for some time but the fire chief was aware that Hiers stayed there during the week because he handled the bookkeeping for a logging company in Hosford.  On weekends, he returned to Panama City to be with his family.
Hiers' employer, Richard Brown, told a friend that he was expected at work Friday morning.
The cause of the blaze and where it began is still unknown, according to the State Fire Marshal's Office.
"We collected some samples and are still working on the point of origin," according to Investigator Chris Scovotto.  He said he has also submitted samples of burned debris for testing.
The fire burned 30 to 40 feet out from the exterior of the structure, according to Hobby. The second story of the home collapased into the lower floor. There was little firefighters could do other than keep the blaze from spreading to neighboring homes.
"The house is a total loss.  There's nothing left but the slab and metal roofing," said Liberty County Sheriff Eddie Joe White. "It's just ashes."
The District II Medical Examiner's Office is continuing to work to positively identify the body and determine the circumstances surrounding the death, according to a news release from the sheriff's office.