Truck rollover blocks SR 71 for over two hours Tuesday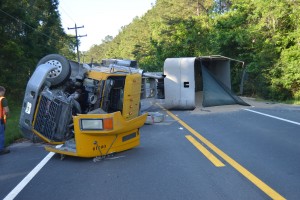 by Teresa Eubanks, Journal Editor
A truck driver carrying a load of gravel through Calhoun County Tuesday morning escaped injury after losing control of a semi just south of Altha on SR 71.  The vehicle overturned and blocked traffic for more than two hours.
According to the Florida Highway Patrol, Frederick A. Washington, 48, of Tallahassee was northbound around 7:40 a.m. when he failed to negotiate a curve to the right.
The 2000 Mack cab and trailer, which had a combined weight of approximately 85,000 pounds, left the road and ran onto the right shoulder.  Washington overcorrected by steering to the left, sending the vehicle back onto the road.  He then overcorrected a second time, pulling the vehicle back to the right, which caused the load to shift and spill as it also forced the cab to overturn onto its left side.
The cab and trailer came to final rest at the intersection of Williams Road, stretched across SR 71 blocking both lanes.
Washington sustained minor injuries and was taken to the emergency room at Calhoun Liberty Hospital.
Charges are pending.  The accident was investigated by FHP Lt. Jason King.
A few minutes difference in the timing of the wreck could have resulted in tragedy.  Calhoun County Sheriff Glenn Kimbrel said an Altha School Bus was moments away from picking up three students at a stop near the crash site.  He said the bus was traveling just a couple of vehicles behind the semi when it overturned.