Woman discovers stranger in kitchen, looking in her cook pot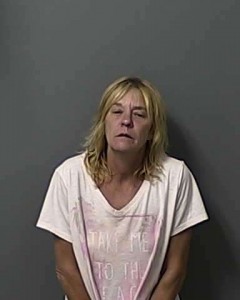 A deputy was sent to the home of an Altha woman March 31 after she reported finding a stranger in her kitchen around 11 p.m.
The caller had gone to her bedroom to rest but got up after hearing odd noises coming from her kitchen.
When she went to check on things, she walked in to find a strange woman in a white shirt and blue pants standing in her kitchen, peeking into one of her cooking pots.
When she yelled at the woman to get out, the stranger left and started walking down Pipeline Road.
Deputy Quinn Dickey was speaking with the caller outside when he heard a voice coming though the woods.  He returned to his patrol car and drove to the end of Pipeline Road, where he found a woman matching the description of the person who entered the victim's home.
The woman identified herself as Terri Lynn Bryant, 50, of Marianna.  The deputy's report stated that Bryant appeared to be under the influence of some substance, noting "she was not making any sense and talking to herself."
When asked what she was doing standing by the side of the road late at night, Bryant replied that she had a fight with her boyfriend.  When asked who her boyfriend was, she replied, "There isn't one."
She mentioned several different areas that she stayed but could not give a main address for where she lived.  She told the deputy that she "always walked beside the houses on Pipeline Road" and did not reply when questioned about being in a nearby home a short time earlier.
After the deputy asked if she'd used any drugs or alcohol that evening, she replied that she had four beers and "was high on meth."
She was charged with trespassing of an occupied structure and taken to the Calhoun County Jail.