Man wanted on felony warrants threatens officer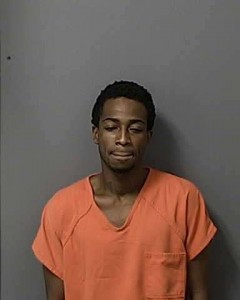 A man wanted on charges of sale and delivery of a controlled substance did not go quietly when three members of the Blountstown Police Department found him at a relative's home on March 28.
Aaron Dupree Burkes, 29, of  Blountstown, answered the door when BPD officers arrived at his father's home to pick him up on two felony warrants.
Burkes stepped outside to talk with the officers and was handcuffed. Officers then began searching for a second suspect also wanted on felony warrants and believed to be at the residence with Burkes.
As BPD Officer Jody Hoagland went back into the home to look for Jessica Simmons, Burkes began yelling. Hoagland went back outside to see what was happening.
Burkes started shouting at Hoagland, according to the officer's report, telling him  "Take these cuffs off and we will bump, cracker!"
As Burkes was being placed into the back seat of a patrol car, he told Hoagland, "I'll R.O.R. tomorrow, b—-, I'll see you," and gave the officer's street address to prove he knows where he lives.
In addition to his original charges, Burkes was issued a warning against trespassing at the officer's residence.