Injured woman found with blood on hands and around neck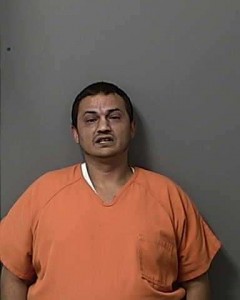 A woman's injuries and blood stains on the carpet where she said she was thrown down were documented by the Calhoun County Sheriff's Office after a deputy responded to a call about an altercation at an Altha residence Sunday evening.
Christopher Morgan, 38, of Blountstown was arrested on a charge of felony domestic battery by strangulation.  Once he was taken into custody and being driven to the county jail, Morgan told Deputy Colby Beck that he was sorry and said, "I know what I done was wrong."
When the deputy arrived at the scene, he saw the victim loading clothing and items into a vehicle where two children were sitting.
Beck motioned for the woman to come talk to him and as she got closer, he could see blood on her hands and around her neck.
When he asked what happened, Morgan emerged from the house and stated,"We fell at the door."  After telling Morgan to walk away as he spoke with the injured woman, the deputy learned that the pair were separated.
The woman said she came to Morgan's house to pick up their two daughters after he called her and told her to come get them.
She said Morgan got angry when he found some keys in the vehicle that belonged to another man and began making accusations toward her.  She said the girls remained in the car while she and Morgan were standing just inside the front door of the residence.
In her statement, she said Morgan grabbed her and threw her down. He then carried her toward the bedroom but before getting there, threw her on the floor a second time. He picked her up again and slammed her onto the floor between the bed and the bathroom. After each time he threw her down, he grabbed her neck and choked her, she said.
The attack left her with a wound on the back of her head and injuries to her neck, according to the deputy's report.  The carpet where she was thrown the last time had blood stains documenting her ordeal.
The children remained in the vehicle and did not witness the altercation, according to the deputy.
The victim declined medical attention at the scene but stated she was on her way to the hospital in Marianna.  The deputy did not get a recorded statement from her at that time because she was so distraught.
She was issued a victim's packet on domestic abuse and asked to be notified before Morgan was released from custody.
He was given a conditional release on March 27.