BPD officer and family lose their home in fire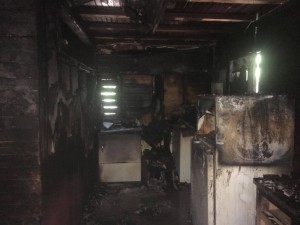 by Teresa Eubanks, Journal Editor
Many times during her three years with the Blountstown Police Department (BPD), Officer Daisy Holliday has rushed to the aid of others.
Friday morning, she was the one needing help when the home where she and her husband, Manuel, live with their three children, caught fire.
Holliday had worked a 12 hour shift Thursday evening and returned home on SE Main Street around 6 a.m.  "I spent some time with the kids and then went to bed at 8 a.m.," she said.  Around 10:30 a.m., her daughter, Caree, 19, "came running down the steps screaming 'the house is on fire!'"
Caree had been doing laundry when she discovered a fire in the area of the dryer.  No one else was home at the time.
After being roused out of a deep sleep, Holliday went to see what was happening.  "By the time I ran into the kitchen, flames were to the ceiling," she said. She called the police department as her daughter phoned the sheriff's office.  She ran out to her patrol car to grab a small fire extinguisher and went back in the house in an effort to save her home, but couldn't.  "It got too hot too fast," she said.
Her nephew, Greg Holliday, who lives behind her heard the tone out on the radio for a fire and grabbed his gear before hearing that it was her home first responders were being sent to.  He grabbed a hose outside to try to slow down the spread of the fire.
"It was a complete relief when I saw Lt. Darryl Temple coming down the driveway in his patrol car, J.K. Musgrove (BPD animal control officer) driving up and Greg pulling into the side yard," she said.  "They were there within a minute."
The Blountstown fire truck was there just two minutes later and many others quickly followed.  "The fire chief put an 'all call' on the radio and everybody came," she said, "police officers, deputies, Blountstown City crews, Calhoun County EMS and even volunteer firefighters left their jobs to come help. I could not have asked for more help or better people."
She said she learned that BPD Chief Mark Mallory, Investigator Tim Partridge and Officer Jody Hoagland had been in a meeting in Jackson County when the call went out.  She said the chief stood up at the table and told the others they had an emergency and the three left immediately.
Holliday was taken to the emergency room at Calhoun Liberty Hospital to be treated for smoke inhalation and burns in her nose and throat.   When her blood pressure was checked "it was through the roof," she said.  The fire was so hot by the time it burned into the kitchen it singed the hairs on her arms.
She didn't have to wait long for family after arriving at the hospital; her sister, Paige White, was already a patient there rushed from her room to the ER - pulling her IV stand along with her - to see about her baby sister.
JUST TWO AT HOME WHEN IT STARTED
When the fire broke out, her youngest daughter, 14-year-old Myzetta was in class at Blountstown Middle School.  Her husband, who is a correctional officer at Calhoun Correctional Institution,  and 17-year-old Manuel II, had already started on a day full of errands to get their son ready for the Blountstown High School prom that evening.
Had her eldest daughter not been home that morning she realizes it's unlikely she would have survived.   "The smoke would have gotten me before I woke up," she realized.  She quickly acknowledged things had turned out for the best, pointing out, "We are all safe and we are all alive.  We are going to be fine."
For now, her hope is to get her family back under the same roof. She and her eldest daughter are staying with her mother, Lucretia Porter.   Her son and husband are staying with their cousin, Greg Holliday.   Her youngest daughter is staying with her aunt, Natalie Griffis.
Their home, owned by Daisy's mother,  was not insured.  "We were paying the taxes on the property and planning to take it over in two months," according to Holliday.  "Mom was going to sign it over to us and we were going to insure it," she said, and added, "We figured we had time." Long ago, the wood-frame residence, with two bathrooms and three bedrooms, had once served as the parsonage for the United Methodist Church.
FAMILY PHOTOS AND BIBLE SAVED
Remarkably, some precious family photos were salvaged. "Firefighters were able to stop the fire long enough that we could get some photos that mean a lot to us," Holliday said, but added they hadn't expected to find much.  "The frames had melted around them but when we broke the glass off, the photos were fine," she said.
One other find was an old Bible that Caree had gotten at a yard sale.  Her mom said Caree bought it because the previous owner had written comments throughout the Bible that her daughter "found encouraging to read."  The book was on a high shelf and unmarred by the blaze or the smoke.
The family moved in 13 years ago after a fire at their rental trailer on Gum Street in Pine Island.  The blaze started in their son's room, who was then just three years old.  He woke up the rest of the family and they were able to escape unharmed.
HOW YOU CAN HELP
Although the main blaze was confined to the laundry area, the kitchen and the bedroom the sisters shared, the rest of the home and its contents were damaged by smoke and water.
On Tuesday, the family was cleaning out a rental trailer to move into.  They have already been supplied with towels, washcloths, sheets and blankets.  Their most immediate need for the family of five is for food and non-perishable items.  They are also in need of household goods and personal items.
Daisy and Manuel were able to salvage their clothing but the children's clothing was destroyed.
Their sizes are:
Caree Holliday - 24-26 clothes, 3x shirts, and size 11 shoes, wide width
Manuel II - 38 pants, XL shirts, a large in underwear, and a 12 shoe, regular width
Mizetta Holliday -14-16, XL shirts, and 9 to 9.5 shoes, reg. width
Donations can be dropped off at the Blountstown Police Department or at the family's new address at  20533 SE Thomas Leath Avenue in Blountstown.
A friend of the family has set up a GoFundMe page under the heading, "Help a Family in Blue."   
Ameris Bank is in the process of setting up an account for the family for those who would like donate locally.