Intoxicated woman found flagging down traffic on road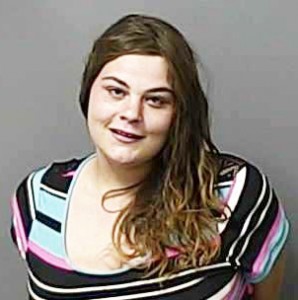 A deputy responding to a disturbance call Sunday evening found a 24-year-old Fountain woman standing in the northbound lane of Apachee Road trying to stop an oncoming vehicle.
When she saw Deputy Jessica Page, Haley Lynn Scott told her, "I'm just drunk.  I haven't done anything wrong."
The woman, who was sweating heavily and smelled strongly of alcohol, told Page she didn't know where she was and was looking for her "mommy and daddy."
Scott was placed in the back seat of the patrol car and the deputy went to talk with the person at a nearby Altha residence who called in the complaint.
The complainant said the woman had knocked on his front door and when he opened it, she asked for her father.
The witness said Scott began yelling and insisting that he was on her property.  He told her to leave.
The woman later went into a neighboring yard, where she became belligerent with someone else and pushed them.   That man also contacted the sheriff's office but declined to press charges against her.
Scott was taken to the county jail and charged with disorderly intoxication.