Passenger hurt when vehicle starter crashes through windshield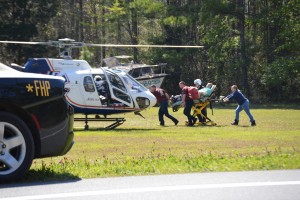 by Teresa Eubanks, Journal Editor
A Panama City man has undergone two surgeries and is facing more after suffering a severe arm injury in a freak accident Friday in Calhoun County.
John David Bush, 45, was a passenger in a westbound 2017 Jeep being driven by a co-worker, when an eastbound pickup towing another truck drove past them on SR 20 in Clarksville around 1:30 p.m.
The Jeep was about a quarter of a mile west of CR 275 when an automotive starter fell from the towed vehicle, bounced up off the road and slammed through the passenger side of the Jeep's windshield, according to the Calhoun County Sheriff's Office.
The two men saw the starter drop onto the road and then pop back up, according to Bush's sister, Kim Lueckemeyer, of Panama City.   She said her brother put his right arm up over his face before the large metal piece pierced the glass.  He was struck in his elbow and then the starter hit the top of his arm.   The starter continued on, going over the seat and landing in the rear cargo area of the Jeep.
Lueckemeyer said the driver could not veer out of the way due to oncoming traffic.
When they were able to stop, the driver put a belt around Bush's mangled arm.  He had three broken bones.   "There was so much blood," Lueckemeyer said.  She credited the driver for his quick reaction and clear thinking, saying, "He probably saved my brother by putting a belt around his arm to slow the bleeding."
A Liberty EMS crew worked on the injured man before he was transferred a short distance by ambulance to an emergency helicopter that landed in a field beside the road. He was then flown to Bay Medical Center.
"A few inches in a different direction and he wouldn't be with us," according to Lueckemeyer.  She credited the friend he was traveling with again as keeping him alive.
Bush was taken by emergency helicopter to Bay Medical Center, where he is waiting to learn the outcome of his injury.  "They have saved his arm but we do not know how much function he will have," his sister said Tuesday.  She added, "He can move some fingers and he's staying very strong."
Bush is an engineer with the Naval Air Station in Bay County. He is married and the father of four children.
The driver in the passing pickup has not been identified.