Hosford man charged with meth possession after tracking dogs find him in culvert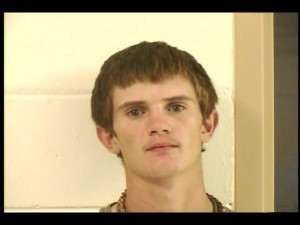 A 19-year-old Hosford man wanted on an outstanding warrant for trespassing was arrested March 15 after a plastic baggie of methamphetamine was found in his truck.
After learning that Richard Troy Durden, 19, had been seen at the Hosford-Telogia Athletic Complex, Deputy Daniel Deason went there to look for him.
Along the way, he spotted Durden's beige Chevrolet truck on Woodman Road.  He walked up and found the vehicle had been left running but Durden was not in sight.  When the deputy looked inside the truck, he spotted a suspicious baggie in plain view.
Sheriff Eddie Joe White and three deputies, along with a K-9 tracking team from Liberty Correctional Institution, arrived on scene.  A short time later, Durden was located about 50 yards away, hiding in a culvert under the railroad track.
During a search of Durden's truck, deputies discovered a plastic bottle that had been fashioned into a smoking device.  The baggie they found held three grams of methamphetamine.
Durden was charged with possession of methamphetamine and possession of drug paraphernalia.