FDLE charges Altha man with child pornography; sexual assault on girl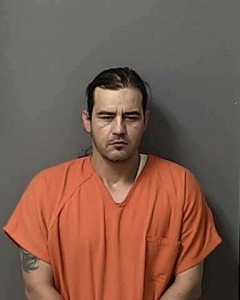 by Teresa Eubanks, Journal Editor
An Altha man who reportedly met an underage girl on an app called "Chatsnap" is facing charges after he allegedly took inappropriate photos of her with his cell phone and sexually assaulted her.
Following an investigation by the Florida Department of Law Enforcement, Adam Charles Davis, 41, was arrested March 17 and charged with withholding support, selling obscene material to a minor, ten counts possession of obscene material and sexual assault.
The app company contacted the National Center for Missing and Exploited Children (NCMEC) after questionable photographs were discovered in Davis' account during routine monitoring.
NCMEC turned over the information to FDLE and the IP address (a number that identifies individual computers) was used to find the Chatsnap customer's location.
The pictures included 10 images of child pornography that had been downloaded from other sites that did not involve local victims, according to an FDLE investigator.  Other inappropriate photos of one local victim were also found.
In August 2015, Davis was questioned after his appearance at the Liberty County Courthouse made employees there uneasy when someone thought he had come in with a backpack and then left without one. It was later determined that Davis, who had showed up the wrong day for a court hearing, had brought a backpack when he arrived the previous day but did not have one with him the second day.
His actions that day struck courthouse employees as odd, according to Liberty County Sheriff's Office Major Brian Langston.  He said Davis was wearing all black Kevlar clothing and wandered upstairs even though no court cases were scheduled that day.  He later came downstairs, waited around a drink machine for awhile and kept combing his hair.
Before determining there was no immediate danger, the courthouse was evacuated and searched.
Davis was taken into custody that day on an outstanding charge of driving while license suspended or revoked.