Cargile arrested on cocaine possession & distribution charges in FHP traffic stop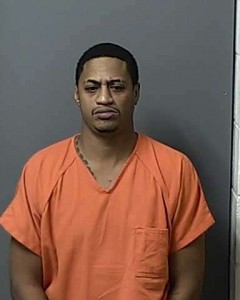 A man pulled over for speeding  on CR 274 in Calhoun County last week was taken into custody after more than $4,000 in cash  - as well as some marijuana and cocaine -  was found in his vehicle.
Rufus Cargile, 31, of Grand Ridge was arrested during the March 15 traffic stop and charged with possession of cocaine, distribution of cocaine, possession of marijuana and possession of marijuana with intent to sell.  He was also charged with speeding.
According to the arrest report, FHP Trooper Tony Golden was on traffic patrol around 6:50 p.m. when his radar caught a car going 81 mph in a 55 mph zone just south of Magnolia Church Road.
When he approached the Ford Taurus, he saw that the driver appeared uneasy. When asked his destination, Cargile replied he was "just making the block."
The trooper discovered that Cargile was not listed as a permitted driver for the vehicle, which had been leased just two days earlier by his brother.  The company that owned the car asked to have it towed from the scene.
Golden was joined at the site by FHP Trooper Wes Harsey, who stood by Cargile as Golden searched the vehicle before it was released to be towed.  As he began to look inside the vehicle, Cargile stated he had approximately $3,000 in cash in the glove box for "shopping."
A search of the trunk revealed a backpack and a yellow plastic bag.  Cargile admitted that the bag held "some smoke."  The trooper found glass jars wrapped up in black sweatpants that held marijuana.  A small tin found in the pants pocket held crack cocaine.
After Cargile was handcuffed and placed in a patrol car, the troopers counted out the cash - which included 160 $20 bills, 13 $50 bills, two $100 bills and one $10 bill - and totaled $4,060.