Purse thief found in N. Pear Street yard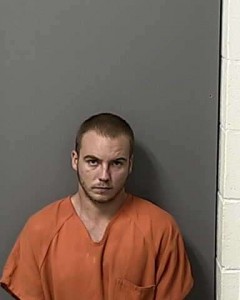 A man who witnesses say grabbed a purse from a vehicle parked at the Main Street Restaurant Thursday evening was taken into custody after being found in the back yard of a North Pear Street residence, according to a report from the Blountstown Police Department.
A woman at the restaurant reported that a white male had grabbed her pink purse out of her 1998 Mazda truck shortly after 8 p.m.
Three others witnessed the theft, including one woman who was sitting in another vehicle in the parking lot and two women who saw the man running away with a pink purse.  The two women chased him north before he got away.
As a police officer was searching for the suspect along North Pear Street, the BPD dispatcher got a call from a woman reporting that a white male had jumped  her fence and was in her back yard.
The officer found Kasey Lee Copeland, 24, at the woman's home and took him into custody.  Witnesses identified him as the person who took the purse.
A K-9 tracking unit from Calhoun Correctional located the purse in the yard when the suspect was found.
Copeland was charged with burglary of a conveyance and trespassing.