Mission trip an eye-opening experience for Blountstown woman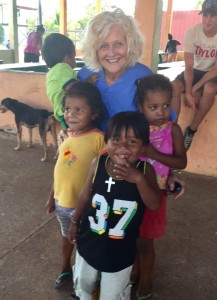 by Teresa Eubanks, Journal Editor
They live in poverty, have few if any possessions and what they do own, they've scrounged from the town dump.
Yet what made the biggest impression on Adronna Kombrinck during her recent trip to Puerto Cabezas in Nicaragua was how happy everyone seemed to be.
She visited an orphanage with over 200 kids living in the simplest of circumstances.  They gave her shy smiles.
She met a young man who made a three hour trip - both by bus and on foot - to bring his three-year-old son in for facial surgery. He grinned.
The mission group built a small one-room house for a large family who probably still haven't stopped smiling.
She left the comforts of her Blountstown home last month to volunteer on a 10-day mission trip organized by Global Passion Ministries out of Redding, CA.
She accompanied her son, Jonathan Kombrinck  - who is an anesthesiologist - to lend a hand as he joined other doctors and nurses to provide much-needed medical services.
This was the 19th trip to Nicaragua undertaken by Global Passion Ministries.  This group completed 63 surgeries, ranging from simple procedures for removing moles to the more complex reconstructive clef lip and palate surgery.  Most of the patients were children, with the youngest being just six months old.  One 16-year-old patient spent his birthday in the hospital having his severely enlarged tonsils removed.
"They have an unusual amount of cleft lip and palate problems," Adronna said, explaining that the cases in Nicaragua are believed to be due to nutritional deficiencies as well as repeated exposure to mercury that contaminates the fish that serves as a primary food source for most.  She said the tiny kitchens families have are known to expose families to carbon monoxide, also a contributing factor linked to the birth defect.
As patients gathered at the small hospital to sign up for the free medical procedures, nurses and other volunteers saw several cases of parents with cleft palates bringing in a child with the same.
The volunteers had to carry patients into and out of surgery; there were no gurneys.  The recovery room had only four beds. Patients know to bring their own sheets and clothing.  Family members bring food to patients.
When not helping with patients, Adronna was busy conducting a children's ministry.  She led kids in song and guided youngsters through craft projects.  "We painted fingernails, colored pictures and made necklaces," she said. The children delighted in the attention she gave them.  "I would loved to have brought some of them home with me," she said, and pointed out that the county does not allow adoptions because "there aren't enough restrictions on selling them into slavery."
While their futures are uncertain, she met one of those children who grew up in the orphanage and found her way out.   She got into nursing school, worked hard and then put herself through medical school.  "She's a doctor now and comes back to the hospital to help," Adronna said.
One job that kept her busy was helping to serve at a community feeding station.  The one she worked at was near the town dump, where many people lived.  They usually fed at least 200 children a day there, she said.  Each child brings their own bowl and cup, which is probably among the few items of their very own. She recalled one day when she was dishing out spoonfuls of red beans and rice from a giant pot.  The next little boy in line stepped up and held out his bowl, which left Adronna a little stunned and saddened.  "It was a dog bowl," she said.  More likely than not, he had probably found it in the dump and was now making good use of it.
She admits the trip was an eye opening experience.  "I've never been to a third world country," she said and described how Nicaragua seemed to be  "all dirt roads with pigs running across and no stop signs."
The mission group stayed at a nearby church compound where they were well-fed but had to adjust to doing without hot water.
There were always surprises each day as they made the walk to the hospital.  One memorable morning they walked up on a small table set out to display a butchered sea turtle for sale; another day, a man rode by on a bike with a small shark hanging out of his basket.  He stopped to talk and told them that would be his supper.  He took them up on an invitation and joined them for church services the next morning.
Adronna brought 200 little wooden cross necklaces to give to the people she met.  The children as well as the adults were delighted with the simple but meaningful present.
And there's one other gift that will be welcomed by the people of Nicaragua - her son has agreed to take over for another volunteer doctor who is retiring.  For the next few years, she'll be sending a piece of herself back to continue to help the people of Nicaragua.