Man wanted on warrant pulled over in borrowed car with 'junk yard' tag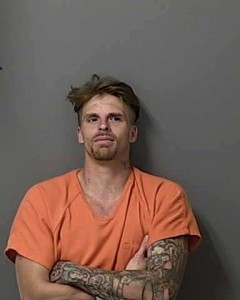 A Blountstown man was taken into custody after a Blountstown Police Officer could not get any information back after running a routine check on the license tag of the car he was driving.
Officer Daisy Holliday conducted a traffic stop on a two-door green car on Chipola Road around 1:30 p.m. Saturday when she couldn't get a match for the tag.
The driver, identified as James Manning, 34, of Blountstown, jumped out of the car to walk away immediately after pulling over.  When the officer called him back, he admitted that he did not have a valid driver's license and was on probation in Liberty County.
After checking his information, she found that there was a warrant for him in Liberty County.
He was arrested for driving while license suspended or revoked.
Holliday then contacted the car's owner, identified as William Pierce.  He told her he did not know the vehicle's registration was not valid.  When asked where he had gotten the car tag, he replied, "the junk yard."
Pierce was given a verbal warning for attached tag not assigned.