Altercation results in felony battery, child abuse charges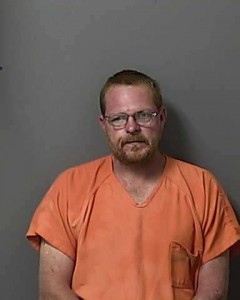 A Blountstown man is facing charges after he allegedly attacked his girlfriend in front of two young children.
Martin Jeremy Conyers, 43, was arrested for felony domestic battery by strangulation and child abuse by causing mental injury, according to the report from the Calhoun County Sheriff's Office.
Deputies responded to a 911 call Saturday evening from a woman reporting that she had been strangled.
The victim said she and Conyers had been arguing all day and she had attempted to avoid him.  She explained that she couldn't leave his home because she is not from the area and was not able to make other living arrangements.
Before the altercation, Conyers was in a vehicle in the front yard and demanded that she speak with him before he left.  She said that when she went to the car Conyers began yelling at her and then tried to kiss her.  As she pushed him away by putting her hand on his face, he bit her left index finger.
After stating she was going to call the sheriff's office, she turned to walk back to the house.
She said she was about to go inside when Conyers grabbed her from behind and put her in a chokehold.  He began using his arms to strangle her as he lifted her from the ground, she said.  She recalled that he told her, "I'm going to choke you to death," before she passed out.
The two fell from the doorway into the living room, where two young children witnessed the attack.  A witness then removed the children and came back to help the victim, hitting Conyers several times in an attempt to get him to release his girlfriend.
Conyers let go of the woman, who then struggled to catch her breath.  She said she crawled to a bedroom and called for help.
Deputies documented a bite mark on the victim's finger and redness around her neck.  Statements were taken from her and the witness at the scene.
Conyers was taken into custody.  His bond was set at $20,000.