Naked man walking on Kinard road arrested on 4 charges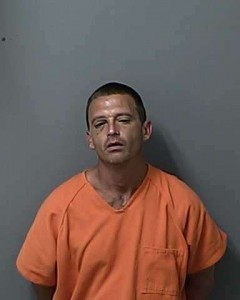 by Teresa Eubanks, Journal Editor
A man who said he was "high on ICE" was arrested after he was found walking along a road, swinging a flashlight around to illuminate his naked body and yelling.
Deputies were dispatched to the scene at Juniper Creek Bridge on CR 73 in Kinard on Feb. 27 at 3:50 a.m.
When Deputy Jessica Page arrived, she tried to talk with Frank Justin Huber, 42, of Altha, who told her, "You're going to have to kill me.  I will tell them I done it."
When she told him to put the flashlight down, he refused and ran to the north end of the bridge.
The deputy repositioned her patrol car and then activated the emergency lights to warn oncoming traffic as well as illuminate Huber.
When asked once again to put down the flashlight, Huber responded by throwing it onto the west shoulder of the road.
The deputy grabbed the metal flashlight to ensure it would not be used as a weapon and approached Huber, ordering him to kneel and put his hands on his head.
Huber appeared to comply but as she cuffed one hand he tried pulling away.  She regained control until he snatched his hand back again, this time pinning her hand between the restraints.
When she released the handcuffs, Huber swung his free hand in an attempt to hit her.
She dodged the blow and he ran south on CR 73 before he stopped at the intersection with CR 5.
She moved the patrol car so the lights once again caught Huber in the early morning darkness.  As Page stepped out of the patrol car, Huber charged toward her "swinging both hands, attempting to strike me," her report stated.
The deputy avoided contact but he charged toward her a second time.  After ignoring her orders to stop, he was met by the sting of a Taser barb in his chest.
He was then handcuffed and taken into custody.
As they were en route to the jail, Huber stated, "I'm an addict…so what.  You're going to have to kill me, because I love that s***."
Once at the jail, Huber refused to get out of the patrol car or submit to leg restraints.  Pepper spray was then used.  As others were helping get him out of the patrol car, Huber punched out a side window.
He was charged with exposure of sexual organs, disorderly intoxication, resisting an officer with violence and criminal mischief under $200.
Huber is being held in the Calhoun County Jail on $25,000 bond.