Guns, over $2,000 cash & meth found during arrest for probation violation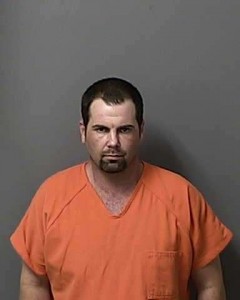 A man wanted on an active felony warrant for a probation violation is facing more charges after deputies went to take him into custody found crystal meth, guns and over $2,000 in cash in his home.
Jackson County deputies joined Calhoun County Sheriff's Office Lieutenants Todd Wheetley, John Scheetz and Bobby Revell Friday when they went to the residence of Michael J. Thomas, 36, on Wonderin Road.
Thomas was found at a neighbor's home and as he was being taken into custody, he admitted to having a concealed pistol on his right hip.
During a search of his house, investigators found approximately 25 grams of crystal methamphetamine, five firearms, several rounds of ammunition and $2,141 in cash.
The weapons included a sawed-off  Mossberg 12 gauge shotgun, a stolen Smith & Wesson .38 revolver, a Lakefield .22 93 mm, a .32 automatic Beretta Model 70,  a Rohm .38 Special and a 7.65 automatic pistol of an unknown brand.
An Eastpoint woman at Thomas' home was also arrested. According to information from the Calhoun-Liberty Drug Task Force, Angela Cooper was wanted on an active warrant out of Bay County
Thomas gave a recorded statement in which he stated the meth was his and was used to trade with women for sex.
He was charged with trafficking in methamphetamine, carrying a concealed firearm and violation of probation.  The case remains under investigation and additional charges are pending.