Calhoun County Annual Chamber Banquet celebrates 70 years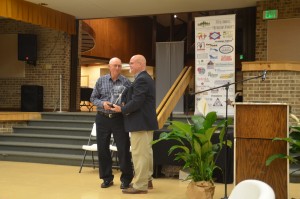 BLOUNTSTOWN – The Annual Calhoun County Chamber of Commerce Membership Banquet was held Monday, March 6, 2017 at the W.T. Neal Civic Center.  More than 250 guests gathered to celebrate the 70th year of the organization.
After a reception, guests were directed to their seats where historic photos and newspaper clippings from the past seven decades filled the tables.  After a welcome by Board Chair Claude McGill, Chamber Executive Director Kristy Terry recounted events of 1947, and gave updates of where the Chamber was today.
A delicious meal was prepared by Ms. Samantha Taylor and her BHS culinary students.  Table service was provided by the BHS Project Graduation parents and students.
After dinner, a special video presentation reminded guests of years gone by.  Individuals highlighted in the video included Howard Johnson Sr., Alice Nell Leonard, Andrew Ramsey, Roy Golden, Geraldine Sheard and Maxie Waldorff.  The video has since been shared on social media, and can be found online.
COMMUNITY AWARDS
•Superintendent Ralph Yoder recognized the Calhoun County Teacher of the Year Joshua Jeffery, and School-Related Employee of the Year Yolanda Pittman.
•Joanne Roberson with Keep Calhoun County Beautiful presented the Grow & Glow award to Calhoun Correctional Institution for their ongoing assistance in beautifying and maintaining and the county's most traveled thoroughfares through their inmate labor squads.
•Benjamin Walden, chair of Blountstown Main Street, recognized Vintage Fade as recipient of the Vision Award for their new location in downtown Blountstown.
•Florida Farm Bureau presented Jimmy Lee Holley and Ricky Tipton of Flatwoods Farms for their efforts to promote environmentally sound farming practices while educating the public on agriculture's role in protecting Florida's natural resources.
CHAMBER AWARDS
•Chamber Board Chair McGill presented the Bobby Clark/Board Member of the Year
award to David House.  House has been
instrumental in supporting and steering the Chamber over the last few years.  McGill thanked House for his guidance and counsel, noting that he was most comfortable behind the scenes, but never hesitated to help when needed.
•The Heritage Award was presented to Neal Land & Timber.  In 1918, a group of men led by W.T. Neal, along with Ed Leigh McMillan, John Miller, Jr., Drayton Burke Hayes, and G.U. Parker began operations in Blountstown, Florida.  Over the years, Neal has employed hundreds of people, and been true community partners.  Neal has always practiced responsible forest management practices, and been good stewards of local timber resources.  In addition to the jobs provided by Neal Land & Timber, later in life, W.T. Neal set up a Trust to be used to benefit the people of our community that had contributed to the success of the timber industry.  Through that Trust, college scholarships have been awarded for more than 30 years, as well as construction of the W.T. Neal Civic Center, Blountstown Middle School music building, and the state-of-the-art Blountstown Public Library.
•The Chamber presented the Cracker Jack Award to Johanna Plummer.  The award honors an individual who is enthusiastic, encouraging, kind-spirited, innovative, and supporter of big ideas.
Kristy Terry presented the award to Plummer, noting that she continually gives of herself whether it be through her business or her volunteer efforts.  Terry noted her Veteran's Day 5K to benefit the veterans' organization "Fisher House."  She also cited the Chamber's "Business Bounce" and "Swamp & Stomp" as Plummer's big ideas that helped the Chamber march into new and current times.
•The Chamber awarded the Rock Star Award to Ken and Vickie Speights.  Last summer, as the country was reeling from a chain of tragic incidents, the Speights chose not to sit back and watch events unfold, but to take action to unify their community during a crucial time.  The couple had
an idea -
a Unity Breakfast to bring together first responders with the community they serve.  What started as an idea grew into a community event that welcomed more than 300 individuals on a Saturday morning in July.  Businesses, organizations, and community members gathered to celebrate their unity, and honor their likeness rather than seek out differences.  The event gained national attention, and set the community apart from many others that were divided.
•The Volunteer of the Year award was presented to Adrienne Wood.  Over the years, she has volunteered her time, energy, and green thumb to almost every civic organization in the county.  Listed were the Jaycees, Panhandle Pioneer Settlement, Garden Club, Depot Museum, Main Street, Calhoun Liberty Ministry Center, RCC, IFAS Master Gardeners, 4-H Learning Gardens, 4-H clubs, and Keeping Calhoun County Beautiful.  Wood always volunteers with a smile on her face, a cooperative attitude, and a willingness to help where ever needed.
•The final award of the evening was Citizen of the Year.
McGill noted that the annual honor is based on public nominations, and is a testament to the individual's long-lasting impact on the community.
Jonas Ray Bontrager was named 2017 Citizen of the Year.  Over the years, Bontrager has served as a mentor to countless young men, as well as been involved with prison ministries, and local and international mission work.  He consistently gives of his own time and resources to instill life skills with the county's youth.  His efforts focus on teaching young men how to be respectable and responsible stewards in our community.  With only a 7th grade education, at the age of 70, Bontrager decided to seek his high school degree, and enrolled in the adult school program.  Not only did he receive his GED, but he finished as valedictorian of his class.  During that process, he was an inspiration, and continues to be an example of hope for many.