Altha man charged in hit & run Sunday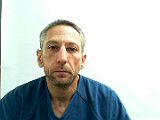 by Teresa Eubanks, Journal Editor
An Altha man was arrested after he ran into a bicyclist in Jackson County Sunday afternoon.
Rick S. Hall, 41, is charged with texting while driving and leaving the scene of a crash with injuries.  He is being held in the Jackson County Jail.
According to the Florida Highway Patrol, Hall was northbound on U.S. 231, just south of Wallace Road around 3:46 p.m. on March 6.  A 61-year-old man on a bicycle who was also traveling north was in a right turn lane.
Hall's 2000 Chevrolet pickup veered into the right turn lane and collided with the bike.  Instead of stopping to see about the victim, Hall continued going north on 231, the report noted.
Hall was found by a Jackson County Deputy after an alert was issued with a description of his vehicle.
The bicycle rider was identified as Caron Gaston of Quebec, Canada.  He was taken to Bay Medical Center with serious injuries.