Selma Louise Guthrie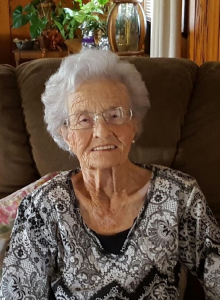 KEATON BEACH - Selma Louise Guthrie, 92, of Keaton Beach, passed away Thursday, March 2, 2017 in Keaton Beach surrounded by her family. She was born Oct. 16, 1924 in Bristol to Sam Harvell and Mary Bell Minton Harvell. She was of the Baptist faith and was a longtime member of Blue Creek Baptist Church.
She established, owned and operated, with her husband Hollis "Shorty" Guthrie, the Keaton Beach Marina. She was lovingly known as the Queen of Keaton, where everyone knew and loved her. She enjoyed fishing in younger years, and taking the children of Keaton Beach fishing. She enjoyed cooking and baking. Her 15 layer chocolate cakes were a favorite by all. She loved her family, and was dedicated in being there for them.
She was preceded in death by her parents; her husband, Hollis "Shorty" Guthrie; two sons, Larry Guthrie and Gerald Guthrie; her son-in-law, Warren Padgett; a sister, Elma Stewart; and two brothers, Bradley Harvell and Van Harvell.
Survivors include her daughter, Glenda Padgett; four grandchildren, Natalie Knowles, Jamie Huxford, Tammy Mears, Tracey Dunham; 12 great-grandchildren, Kaylee, Dustin, Brayden, Ashlyn, Alyssa, Jamison, Sarah, Carson, Caroline, Andrew, Danica and Urijah; a step-granddaughter, Lee Ann Dedge; and a host of nieces and nephews.
Services were held Sunday, March 5 at 3 p.m. at Burns Funeral Home of Perry with Brother David Beigle officiating. Interment followed in Pineview Memorial Cemetery.
Burns Funeral Home of Perry was in charge of the arrangements.