Vietnam vet presented with Quilt of Valor in Saturday ceremony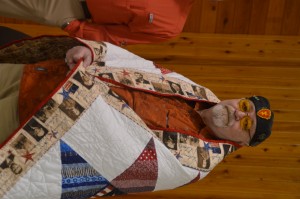 from VFW Post #12010
BRISTOL - Vietnam veteran Army Spec 4 Charlie Brake was honored Saturday afternoon at the Veterans Memorial Civic Center with the Quilt of Valor.
On hand for the award were numerous fellow members of VFW Post 12010 and other friends. Special guests were two soldiers who had fought alongside Charlie in Vietnam. They are "the two bravest men I have ever known," Charlie said about Sgt. Carlton Thomas and Sgt. Herbert "Wimp" Ballard. Carlton and two of his grandchildren came down from Georgia for the event while Wimp drove over from Louisiana.
In Vietnam, Charlie, Carlton and Wimp were members of the  3rd Platoon, Alpha Company, 2nd Battalion, 12th Infantry and 25th Infantry Division "Tropic Lightning."
When Charlie arrived in Vietnam, it was Carlton who took him under his wing and gave him sage advice on how to stay alive. Charlie then did likewise for Wimp when he arrived in the combat zone.
During his time in Vietnam, Charlie was selected for sniper school. He completed the course and quickly returned to the field, where the enemy soon experienced the lethal effects of his newly-honed skill. Charlie was wounded while in combat and was awarded the Purple Heart. He also earned the Army Commendation Medal with "V" for valor and numerous other medals.
While at sniper school, Charlie learned that Wimp had been badly wounded while leading his platoon. He had lost both legs from a booby trap explosion. To Wimp's great credit, he has not let this slow him down. While recovering in the hospital, a box of new socks he had been hoping to receive finally caught up with him. He got a chuckle from it and gave the socks to fellow soldiers in his ward.
Recently, Charlie called to talk with Wimp and discovered that Wimp, who wears no prosthetics, had climbed a ladder and was working on his roof!
Today, Charlie, Carlton and Wimp are highly decorated survivors of the Vietnam War. Each has had considerable success in his own life.
Originally from Kentucky, Charlie has lived and worked in Key West and Hawaii and today resides in Estiffanulga.
Carlton is the CEO of an electric cooperative in southwest Georgia and is a life member of the VFW.
Wimp stays active in his community, and is not only a life member of the VFW but also the Commander of his local VFW Post. The men also enjoy going to yearly reunions of their old platoon.
After the award presentation, many of the veterans spoke about their time in service and, specifically, about Vietnam. For those of us who had not experienced the Vietnam War, it was very enlightening and increased our appreciation for these brave soldiers, sailors, airmen and marines even more.
They are finally receiving recognition that is long overdue.
Quilts of Valor is a non-profit foundation whose goal is to honor all physically and psychologically wounded veterans. Each Quilt is unique and hand sewn and includes a sewn in patch that has the veteran's name, the name of the volunteer who designed it and the name of the volunteer who sewed it. The Quilts must be awarded and not simply mailed or handed over to the veteran. To date, over 151,000 Quilts of Valor have been awarded.