Traffic stop leads to meth arrest Saturday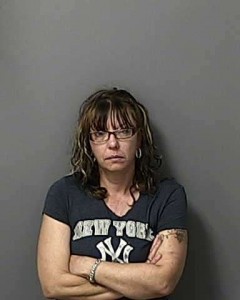 by Teresa Eubanks, Journal Editor
A Blountstown woman is facing drug charges after a traffic stop Saturday.
Tracy Leake Sims, 44, was seen crossing the center line multiple times by Blountstown Police Officer Daisy Holliday, who then pulled her over.
The officer's report indicated she could smell the odor of marijuana coming from the vehicle and asked the driver and her passenger to step out.
Sims told the officer the odor was her "son's dirty clothing."
During a search of the vehicle, drugs and drug paraphernalia were found in a purse.  The officer's report indicated that "multiple glass pipes" like those used to smoke meth and marijuana were discovered along with "multiple cut-off straws and clear plastic baggies" that had a white powdery residue.  Two containers were found that field-tested positive for methamphetamine.
The driver denied the bag was hers. The officer determined the purse did not belong to the female passenger and allowed her to leave the scene.
Sims was charged with possession of methamphetamine, possession of drug paraphernalia and possession of less than 20 grams of marijuana.