Driver parked in road arrested with meth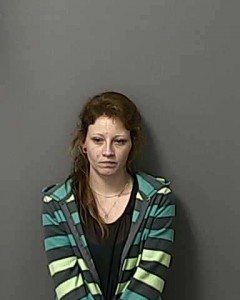 An Altha woman who was found parked in the middle of Doug Price Road around 7:30 p.m. on Feb. 22 was arrested for possession of methamphetamine.
According to the arrest report, Calhoun County Deputy Nick Keller pulled up to see if the driver needed help.  The vehicle began rolling as he approached and he signaled for her to pull onto the side of the road.
Amber Stevens, 27, said she did not have her license with her and stated that she was using a friend's vehicle but it had developed mechanical problems.
As they spoke, the deputy noticed a lighter in the passenger seat and could smell burning marijuana.  A second officer was called to the scene.
The deputy learned that Stevens' license had been suspended and she was a habitual traffic offender.   He then took her into custody for driving while license suspended or revoked.
During a search of the vehicle, a meth pipe with a substance that tested positive for methamphetamine was found between the driver's seat and center console.  A marijuana pipe with burnt residue was found in her purse, along with 1.2 grams of marijuana, rolling papers and a vapor-style cigarette with an oil that tested positive for marijuana.  The purse also held two small one gram bags of suspected methamphetamine along with a pipe that contained residue.
Stevens was charged with possession of methamphetamine, possession of less than 20 grams of cannabis and possession of drug paraphernalia.