Man charged in attack on passenger who jumped from truck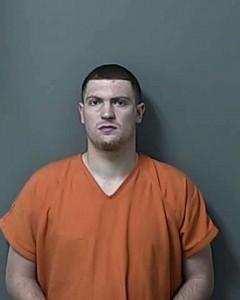 by Teresa Eubanks, Journal Editor
A Bainbridge, GA man has been charged with aggravated battery with a deadly weapon following an incident last year that left another man riding in the bed of his truck badly injured.
According to the original report, John Taylor Reynolds, 22,  and three passengers stopped to pick up a fourth passenger on the way to Shelton's Store to buy cigarettes on Sept. 6, 2016.
After Reynolds left the store, he went east on Laramore Road where he began driving at a high rate of speed and was "trying to jump the ditches."  The victim said he told him to stop the truck and let him out.  When Reynolds did not, the victim jumped from the moving vehicle.
The truck then stopped.  Reynolds and one of the male passengers, who were both wearing brass knuckles,  went to the victim and started punching him in the face.  He said he started to run away and heard a gunshot.  He stated he believed it was a female passenger firing a gun to break up the attack.
An ambulance was sent to the scene where the victim was found with several lacerations to his face and a gash on the top left of his head.  Due to the severity of the injuries, he was transported to Calhoun Liberty Hospital.
Reynolds was taken into custody on the same day by Investigator Mark Esquivel of the Bainbridge Public Safety Dept. when they learned of the incident in Calhoun County.  "We were familiar with the suspect, and knew the area he was known to frequent," Esquivel said.  "We discovered his truck at a known drug house and initiated a traffic stop when he left." He was booked on driving without a license and possession of a firearm by a convicted felon.
After sentencing on the Georgia charges,  Reynolds was transferred to the Calhoun County Jail on Feb. 8 to face charges here.  He was released Feb. 10 on $5,000 bond.