Hand charged after dipping into Howie's tip jar three times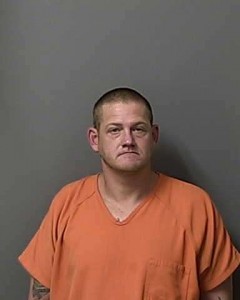 A Blountstown man was charged with petty theft after he robbed the tip jar at a local business three separate times for a total of less than $15,  according to a report from the Calhoun County Sheriff's Office.
An employee reported that an "extremely intoxicated" white male wearing blue jeans, a denim shirt and an orange Florida Gators cap entered Hungry Howie's on Feb. 1 and asked if his order was ready.  After it was found that he had not placed an order, the man left the restaurant.  The employee then noticed the tip jar was empty.
After checking the store's security video, the suspect - later identified as Michael Edward Hand, 33, was shown taking the money from the jar and stuffing it into his right front pants pocket.
A second employee then came forward to try to help him but Hand did not attempt to place an order.  The surveillance video shows that when the employee left, Hand once again reached into the tip jar and took more money.   He is also seen on the video removing cash from the container a third time before leaving the store.
An employee noted that Hand had been hanging around the back of the restaurant earlier.  Other workers recalled seeing the handle of the back door shaking as someone tried to open it from the outside.
The deputy who reviewed the video recognized the man, went to his residence and found him passed out on the couch.  The arrest report noted there was "an extremely strong odor of alcohol" emitting from him.
He was roused from sleep, handcuffed and taken into custody.
In addition to petty theft, Hand was also charged with a probation violation.