Calhoun County's 2017 Teacher of the Year gets an education in small town life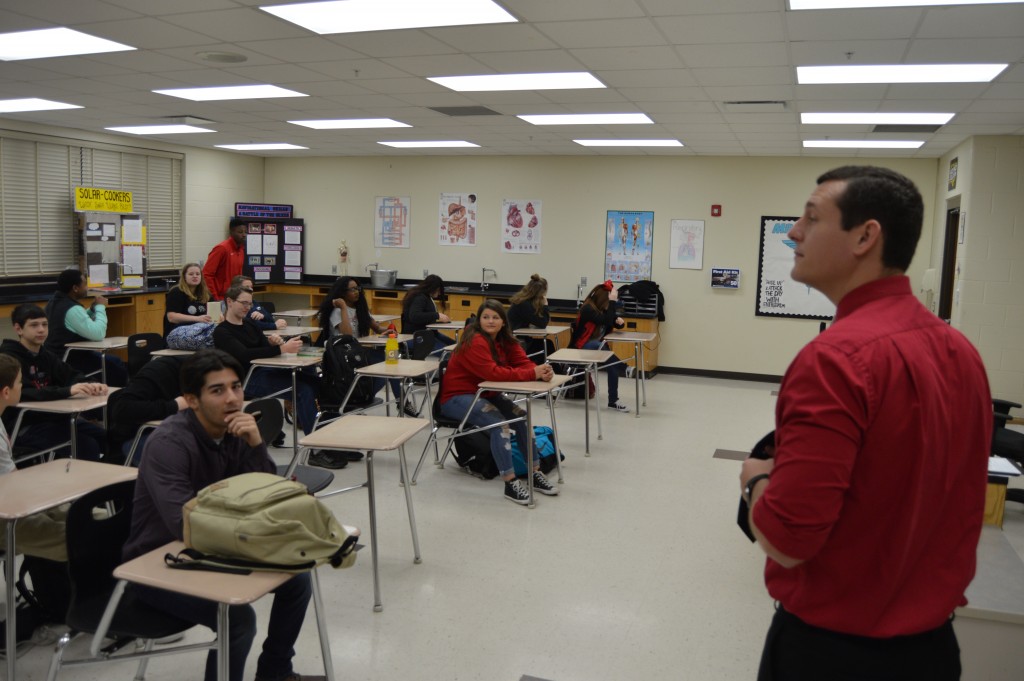 by Teresa Eubanks, Journal Editor
It took him a little while to discover what he really wanted to do in life but now that he's found it, his motto has become, "I'm livin' the dream."
But before he started living his dream, Joshua Jeffery, 31,  was living in Kissimmee and spent three years working as an event planner at Disney World.  "The money was good but it wasn't fulfilling," he said.
At the age of 26, he decided he wanted to teach. Others had tried to steer him away from the job because they did not think it would offer what he needed.  They were wrong.
He finalized his decision, moved to Calhoun County and transferred his credits from the University of Central Florida to Chipola College. It didn't take too long to finish up his studies and get his bachelor's degree.  He was still interning when he got the opportunity to teach anatomy, physical science and marine science at Blountstown High School (BHS).  His experiences there for nearly four years have convinced him he made the right decision.
In his short time here, he was twice named Teacher of the Year at BHS.  Last week, he was selected as Calhoun County's Teacher of the Year.
SMALL TOWN LIVING
Not only did he change his profession, but the self-described "city slicker" who was one of 574 students in his graduating class at Osceola High School, developed a true appreciation for small town living.
He admits he experienced some culture shock after coming to Calhoun County, but in a good way.   He felt "immediately accepted" after beginning his duties at BHS and was impressed with the students.  "Kids here are much more well-behaved.  They say 'yes sir, no sir' and hold the door for you. The amount of respect you get here is incredible," he said.  "It was definitely not that way where I grew up."
He soon discovered that the respect and concern he observed was not limited to the school.
He has witnessed how those facing serious illnesses or a family crisis don't have to deal with it alone. "When somebody is suffering, the whole community gets behind them," he said.
When his home was robbed recently, he found that courtesy extended to him as well.  "Within five hours I had all my stuff back," he said.  "Overnight, everything was solved."
IN THE CLASSROOM
He said he focuses on short-term advances to ensure his students understand the information he presents.  The kids follow their progress as a group when he posts the class average after each test.
Although most teachers might not appreciate their students watching t.v., he's glad his keep up with several medical shows. "It not only makes me proud, but is a strong indicator they are retaining the information," he explained. "They return to school to discuss what they saw and correlate it with information we have already discussed or are currently learning about."
He added, "My goal is not only to teach each student about the body, but to give them a passion for the subject."  He hopes his classes will inspire some of them to go on to become medical professionals.
In a letter recommending that Jeffery be considered as the school's Teacher of the Year, a former student wrote about his positive outlook and welcoming attitude.  "He makes every student feel important.  Every day as students leave his classroom, he shouts, 'Stay out of trouble, don't do drugs, and Mr. Jeffery loves you!'"