Building hope in Haiti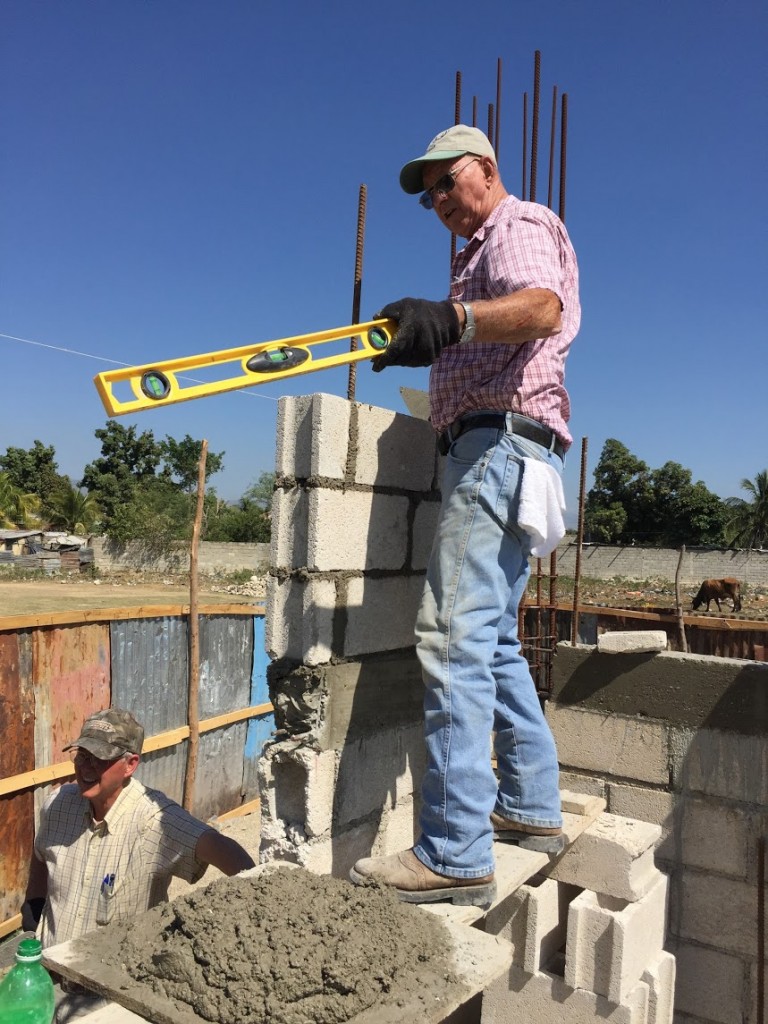 by Teresa Eubanks, Journal Editor
In a tiny country of chaos, they went to help create a place for peace.
A group of church members from Calhoun, Liberty and Jackson counties arrived in Haiti on Jan. 24 and quickly went to work with a few local volunteers to build three walls of a new church.
Massive amounts of foreign aid has gone there over the years but little of it seems to reach the general population.  There are few stable jobs to be had, no public school system and health care depends on humanitarian efforts from other nations.
So how can you make a difference?
"You've got to help them help themselves but first, you've got to give them some hope," said Dr. Laban Bontrager, who took some time off from his dental practice in Bristol to join his three brothers and two Marianna men on the trip.
They put in three full days at the construction site, assisted by two local block layers and a few other helpers.  Rivertown Community Church (RCC) sent money earlier to build the foundation and purchase concrete blocks.
"The goal was to get it well on the way and for them to finish it," Bontrager explained.
Steve Basford and Civil Engineer David Melvin joined the Bontrager brothers - Laban, Reuben, Daniel and Jonas Jr.  -  working side-by-side as they grabbed their gloves, trowels and levels and started the walls.  "All six of us laid block," Bontrager said. The men were impressed with the pace their helpers set as they carried five gallon buckets of water from a nearby alley to pour out as they mixed the cement by hand on the ground.  Despite the primitive conditions, "we never ran out of mud" Bontrager said about the ever-ready supply of concrete mix they needed to keep the blocks going up.
"We got a lot done but there's still a lot more to be done," he said.  "Establishing a church there gives them hope and gives them connections.  It bands them together to work toward a common goal."
It appears the brothers are following in their late father's footsteps.
In 1953, Jonas Bontrager, Sr. brought his family from Ohio to Blountstown to establish a Mennonite Church.  In 1968, he traveled to Haiti to help a pastor there start a house of worship.  The poverty he experienced there made a lasting impression, his son said, and explained,  "Because from that time forward we were made painfully aware of not wasting any food in our home."
• • • • •
Considered the poorest country in the western hemisphere, Haiti has been plagued by decades of political instability and natural disasters.  A 2010 earthquake killed an estimated 230,000 people and destroyed the country's substandard housing, according to globalissues.org.  The website noted that 78 percent of Haitians live on less than $2 (U.S.) a day.
Volunteer groups like the men from RCC don't just show up in Haiti; a lot of arrangements must be made beforehand.  It can be a dangerous place to travel.
They stayed at the Florida Baptist Association guest house in the Haitian capital of Port-au-Prince.  A razor-wire topped fence encloses the facility and the guard at the front gate carries a shotgun.  From a balcony near their rooms they had a view below of a voodoo temple.
The group hired their own armed security guard, two drivers, a translator and a prison transport truck that was kept locked as they traveled through the slow-moving traffic that clogs the deteriorating roads.  Motorcycles, bikes and people on foot weave in and out of traffic.  Brightly-painted pickup trucks called "tap-taps" are stuffed full of riders as they offer taxi service. "It took us 45 minutes to make the three mile trip from where we stayed to the worksite," Bontrager said.
"At one point, we were at an intersection with vehicles traveling in four directions and no traffic signal," he said.  "The guy riding with our driver jumps out and starts directing traffic to get us through there."  He added it didn't appear to be the first time the man had done so. It was the only way to open up the gridlock.
On the fourth day, the group did some sightseeing and traveled out to a nice restaurant overlooking a scenic area.  Outside the front door stood a guard wearing a bulletproof vest and holding a Remington 12 gauge shotgun.
Despite the grim appearance of men carrying guns, fences topped with broken bottles to discourage intruders and the absence of any law enforcement, Bontrager said, "At no time did I feel threatened or endangered." What they witnessed was just the way things were in that area of Haiti and "everybody expected it."
• • • • •
"We came back a lot lighter than when we left," Bontrager said.
When they took off from Florida, their combined luggage weighed about 750 pounds.  By the time they got on the airplane to head home Jan. 30, they were down to 150 pounds.
They brought clothing, food and building tools with the intention of leaving them behind.
An effort to find a saw one day proved how difficult it is to locate usable tools in Haiti. To make a purchase, you must deal with the owner through an open window or door.  He may be armed or have a friend with a gun at the business.  "One guy had a used saw with a broken handle he tried to sell us," Bontrager said, but there was no sale.  "It was too dull."
He said he brought along 10 pairs of new work gloves and barely managed to keep a pair for himself while working.  The others quickly disappeared.  Early on, one of the volunteers admired his nice new hammer.  He had brought several to leave behind as well and made a point of getting one to that volunteer the day they left.  "We also left them with some tape measures, good quality trowels, levels and other masonry items…along with some nice Florida Gator t-shirts," he said.
Something as simple as giving out an ink pen could bring a big smile.  Others were delighted with the canned goods and other foods they brought from home.
"It wasn't a vacation but it was very interesting," Bontrager said.  After discovering that the Mennonite Mission has a dental clinic there he is considering returning in the future to help get it organized.
"It was a worthwhile effort," he said.  "I feel like we accomplished a lot - not just in building a church but also in building relationships."