Jennifer Lee named Liberty Co. Teacher of the Year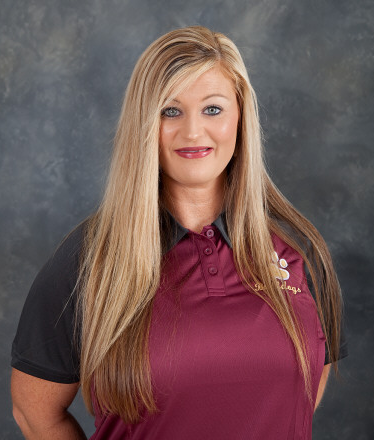 by Teresa Eubanks, Journal Editor
Her class of five students is a unique one.
"We deal with the tantrums, we work through the behavior problems and take it one day at a time," said Jennifer Lee, 34,  of her five-and-six-year-old exceptional kindergarten students.
Progress is measured in minutes.  Frequent breaks are needed to accommodate short attention spans.
Her kindergarten class at Tolar School needs a specific kind of classroom instruction, a little love and a lot of patience as they struggle with autism, speech or language difficulties.
"My heart has always been open to kids with special needs or disabilities," she said.  That's not sympathy; it's the voice of experience.
Facing challenges is nothing new for Jennifer.
As a child, she struggled with forming words and needed speech therapy.  Her brother could not communicate well until he was six years old.  A younger relative of hers was diagnosed with an intellectual disorder.
Jennifer overcame her speech difficulties, went on to get her bachelor's degree in special education and became certified in elementary education.
Her family was told her brother would never graduate high school. He did and then became a correctional officer.
Her younger relative made honor roll in elementary and middle school after Jennifer and her husband, Jamie, helped her with homework and studying.
Jennifer's grandparents faced severe physical difficulties early in life.  A fall from a two-story house at the age of two left her grandmother paralyzed from the waist down.   She went on to marry, raise a family and managed to get around on crutches and braces until just a few years ago.  Her grandfather was born with an unusual defect - his arms were backwards, with his elbows facing front.  "When you looked at him, all you saw was his elbows.  His hands were backwards with his right hand on his left side," she said.  "Nothing stopped him.  He learned to write, drive, and climb fire towers while working with the forestry department.  He adapted to his disability."
With that family history, you can understand the motto that guides her in the classroom: "We adapt, we adjust, we accommodate."
•  •  •  •  •
Learning is not easy for these kids.  "I'll do whatever it takes to make them feel good, want to come to school and love learning," she said.
Her students are behind in different areas, particularly when it comes to maturity and being around others their age. Some require health aides and paraprofessional assistant in the classroom.
"We coach them through it," Jennifer explained, describing how she and others "model" the behavior they hope the children will emulate.  "We're teaching them to ask for things nicely and showing them good manners," she said. "We've been working on teaching them how to socialize and share things," she said.  It's a slow process requiring much repetition.  They often socialize with other kindergarten students on the playground and during lunchtime.
"Jennifer Lee was dealt a very challenging task this year with her students being among the most diverse group of students in a general education class," one of her colleagues at Tolar noted. "She has not only managed to engage her students but also teach two completely different curricula while greatly differentiating instruction. She has met this challenge with a very positive attitude and been a role model for a first-year teacher within her grade level."
By current standards, kindergartners are supposed to know their alphabet by October and be able to read 13 to 14 words by Christmas during their first school term.  "With my class, it's a much slower pace. I work at their level," she explained.  "I try to make it fun and keep them engaged."
Their progress may be slow, but she recognizes it.  "They come to me in the beginning of the year not knowing how to write their name or hold a pencil," she said.  "Here it is January and they're writing their names, know the letters and sounds that I have taught and two of my students can blend and read simple words.  It's amazing how far they've come.  I love these kids -  they are my heart."
While she doesn't know about their experiences outside of class, she makes sure they know they feel welcome when they arrive at Tolar.  "I stand by my door every morning and they coming running down the hall to me," she said.  "It melts my heart that they know I love them that much and that I want them to be in my class." She added, "They've got to know you care about them before you begin teaching them."
When they leave for the day, there's another reminder of how much they are valued. She hugs them and tells them, "Miss J. loves you!"
——————————
Jennifer Lee has been named Teacher of the Year for the Liberty County School District.  This is her 10th year as a kindergarten teacher; her first year working with exceptional students.  She will represent the Liberty County School District in the Florida Teacher of the Year Program.  She and her husband, Jamie, live in Blountstown and have two children, a daughter, Jordan, who is 11 and a seven-year-old son, Jensen.