You gotta get up early and run fast to get …. A front row spot at the presidential inauguration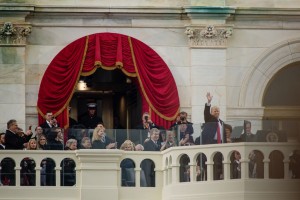 by Teresa Eubanks, Journal Editor
WASHINGTON, D.C. - They were first in line.
When Jami Daniels Joe and her husband Craig went to witness the inaugural of President Donald Trump, they wanted to be sure to get a good spot for the ceremony.
They arrived in Washington, D.C. on Wednesday.  The next day, they visited the inaugural site at the U.S. Capitol so they would know their way around on Friday.
"We scouted it out the day before so we would know where to run (to secure a good spot) when the gates opened," Jami said.
Friday's inaugural ceremony was scheduled to start at 10:30 a.m. CT.  They arrived nearly eight hours early in 40-degree temperatures and intermittent rain.
It was a long wait but a memorable one. They stood and waited until a security team opened the gates just before 6 a.m.
"Craig dashed ahead and grabbed our spot," Jami explained.  She was loaded down with a camera, heavy lenses and extra battery packs but caught up with him a few minutes later.
After they got in, Jami took a series of photos of the Capitol building illuminated by spotlights against the night sky.   Later,  they watched the sunrise behind the ornate white structure and captured images of the detailed architectural embellishments that circle the historic dome.
"It was freezing, and rainy but we came prepared," she wrote on her Facebook page.  "Out came the ponchos and they stayed on the remainder of the day! The cold weather was quickly forgotten however after I started looking around. I saw people from all across this great nation, standing side by side, sharing stories, sharing laughs, sharing tears, sharing their love for America!"
They remained on their feet the whole time, although Jami said she tried to sit down next to the fence for five minutes.  "Since we were in front, I kept getting squished by people so I had to get up," she said.  Still, the crowd was calm.  "Nobody was pushing or shoving or being rude," she said.
She said they never felt concerned for their safety because law enforcement officers were stationed "every few feet."
They saw protesters but they weren't getting out of hand.  "There was actually one group of protesters standing with some Trump supporters," she noted.  "They were laughing together and talking."
They joined the crowds gathered around the Capitol as the man widely acknowledged as one of the most unusual presidential candidates in modern history was sworn into office.
"It was a great portrait of what it means to be American," she said about witnessing the inaugural.  "I love this country so so much and no matter our political beliefs at the end of the day this is our America, Donald Trump is our president, and we all have a choice to make. How will we spend our time here…hating or loving…dividing or unifying?"
She added, "It truly was an amazing day… I will surely be telling my grandchildren about it one day."
• • • • •
Jami is the daughter of Doyle and Charlotte Daniels of Kinard.  She and Craig live in Nashville, TN, where they work at Puckett's Restaurant as well as operate their own businesses, J'Lyndee J. Photography and The Tennessee Cobbler Company. The pair make a point of returning to Calhoun County frequently, where they help out each year at the Kinard Halloween Carnival and enthusiastically photograph the continuing adventures of their three-and-a-half year old nephew,  John Franklin "Dooder" Daniels.