Man arrested for aiming realistic toy gun at traffic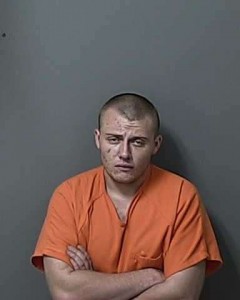 by Teresa Eubanks, Journal Editor
A Clarksville man who was seen pointing a gun at motorists traveling along Central Avenue in Blountstown was arrested Thursday for disturbing the peace.
A woman contacted the Blountstown Police Department (BPD) to report that a white male wearing a hoodie had aimed the weapon at a truck traveling ahead of her, causing the driver to swerve.  The woman said the man then turned the weapon toward her as she drove past him.
About the same time the call came in, BPD Captain Adam Terry was driving by and noticed a man walking along the north sidewalk carrying what appeared to be a compact machine gun.
Terry turned around, drew his weapon and approached the man on the sidewalk, ordering him to the ground.
The man, later identified as Travis Reid Hayes, complied.  When Terry pulled the weapon from the man's jacket, he discovered the gun was actually a toy from which the orange tip had been removed.  Toy guns are required by law to have an orange tip in the barrel to readily distinguish it from a real weapon.
Bond was set at $20,000.  Hayes was also charged with a probation violation.