Hosford family loses all in Friday morning blaze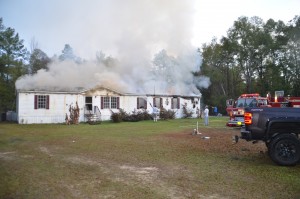 by Teresa Eubanks, Journal Editor
Faulty wiring in the ceiling was determined to be the cause of a Friday morning fire that destroyed the Hosford residence of John and Brandy Kirkland.
Volunteers with the Hosford-Telogia Fire Department arrived at the home at 6709 NE Cody Creek Trail around 8:30 a.m., where they used 20 gallons of foam and 6,000 gallons of water to douse the flames.
Firefighters' efforts were impeded by having to shuttle water to the site from a hydrant more than 1,000 feet away, according to Fire Chief Curtis Fletcher.
The department's six firefighters were joined on scene by Richard Mims and James Kersey of the Bristol Fire Dept.  "Our new Liberty County Sheriff Eddie Joe White also arrived early, jumped right in and grabbed a hose to help out," Fletcher said.
The fire was out by 1 p.m. and volunteers left the scene about an hour later.
A mishap at the site left one firefighter requiring medical treatment.  Ricky Ramer received seven stitches to his right thumb after breaking out a window with an ax.  EMS transported him to the hospital.
Fletcher said Ramer had been battling the fire for about an hour and a half before taking a break, during which time he removed his protective gloves.  He returned to fight the fire before putting his gloves back on.
The home was declared a complete loss along with all its contents, although the couple's son did manage to get inside a storage closet and retrieve some family photos, Fletcher said.
Friends are gathering clothing and supplies for the couple and their 18-year-old daughter.  If you would like to help, call Kim White at (850) 643-7477 or Breanna White at (850) 643-8225.