Anderson charged with battery on another inmate at Liberty Co. Jail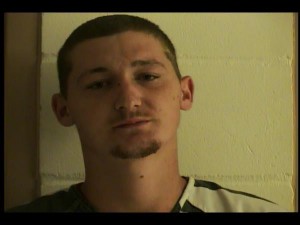 An inmate at the Liberty County Jail was charged with battery after security video showed him attacking another inmate, according to a probable cause affidavit.
When asked about his injuries - which included a swollen eye, abrasion to the right side of his face and blood around his nose and mouth  - the victim replied that he fell in the bathroom. When pressed for more information, he told Sgt. Mitch Willis "I'm not a snitch."
When the security video was reviewed, the victim was seen sitting on a bunk as inmate Steve Anderson, 24, approached and began hitting him in the face.
According to the sergeant's description, Anderson pulled the man off the bunk and threw him on the floor. Anderson resumed striking the man, who was on his back on the floor and hands outstretched.  When he realized the victim had passed out, Anderson got off his victim and walked away.
The injured man was transported to Calhoun Liberty Hospital to be treated for his injuries.
Anderson refused to give a statement about the incident.
The charge of  battery is reclassified from a first degree misdemeanor to a third degree felony when it occurs inside a detention facility.
Anderson was originally arrested on Sept. 12, 2016 for battery on a pregnant victim with knowledge of her condition.
He was later released on bond, but was taken back into custody on Nov. 20, 2016  after have his bond revoked for felony battery.