Kidney recipient doing well; donor recuperating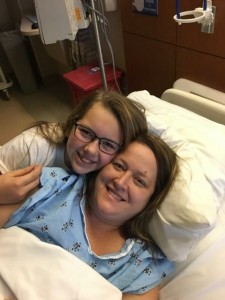 by Teresa Eubanks, Journal Editor
Even if you're not a superstitious person, you might think twice about doing something particularly challenging on Friday the 13th.
But last Friday turned out to be a lucky day for Tonya Lawrence, 39, who was able to bypass the waiting list for a transplant after a Calhoun County acquaintance offered to give her one of her kidneys.
Soon after her search for a kidney began, Blountstown Elementary School Principal Pam Bozeman learned of Tonya's need and started thinking about helping her.
When she stepped forward to be tested on her suitability as a donor, she proved to be a perfect match for Tonya.
• • • • •
Tonya works as a nurse at Tallahassee Family Clinic in Blountstown.  She and husband, Brett, live in Two Egg and have four children between them. Back in 2005, she was diagnosed with polycystic kidney disease.
"I had cysts on both kidneys inside and out and was having kidney stones," Tonya explains.  "They said by the time I was in my 40s I'd have to go on dialysis."
Despite the dire diagnosis, she didn't experience any significant problems until she went in for sinus surgery in 2015.  The progress of her disease became known when her creatinine levels were found to be too high and she learned she would need a new kidney. Doctors told her she was in Stage 5 renal failure.
She had not forgotten about the 2005 diagnosis but had not yet experienced any of the expected side effects.
At that time, "I was still working more than 40 hours a week.  I thought life was going well."
• • • •
The women went into surgery at 7:30 a.m. Friday morning at the Mayo Clinic in Jacksonville.
"About 10 a.m. the doctor met with me, my sister, my dad and grandparents and told us she had done great.  There were no complications," said Pam's daughter, Haley Rodgers.
"We were expecting mom's portion of the surgery to be about six hours but it turned out that timeline applied to the full procedure for both patients.
Transplant donors usually remain under hospital care for a week after surgery. Pam was doing so well that the doctor agreed to let her go home Sunday after she convinced him she would recuperate better at home, her daughter explained.  "She is expected to make a full recovery," she added.
She is scheduled to be away from work for six weeks and will have to travel back to Jacksonville for follow-up appointments.
• • • •
Tonya told her doctors when they brought her out of surgery she wanted to be taken straight to Pam so she could see how she was doing.
She said they rolled her right past her family into Pam's room. Her family followed her and stood by as she spoke briefly with Pam.
"I wanted her to know that she was the priority.  She was giving up something perfectly healthy for me."
Tonya doesn't remember the conversation - or much from that morning - but said her family told her she asked Pam how she was doing.  After Pam said she was OK, "They said I gave her the thumbs up and told her 'I'm going to bed now.'"
Three days later, she joyfully documented her release from the hospital on her Facebook page, enthusiastically announcing in a post Monday, "My central line is out! One step closer to the front door." Another post read, "Nurse practitioner just came in and said my kidney ultrasound was great! Blood flow is perfect. Output is awesome. My labs….. are perfect."
A photo was later posted showing her heading for the hospital exit doors in her wheelchair.
She is now getting settled in at the Gabriel House of Care, near the hospital, where she expects to spend the next 45 days. The facility provides temporary lodging for adult organ transplant recipients and cancer patients.
Her mother and husband are taking turns cooking and caring for her.
Although she has no dietary restrictions, she said she's making significant nutritional changes anyway.
"I've been given a second chance at life," she said Tuesday.  "I already feel 90 percent better and I'm not even a week out of surgery."
She said she is going to take good care of Pam's kidney and "will treat it like a baby."
• • • •
Why did her mother make such a good candidate for this procedure? "She's always taken care of herself," Haley said.  "She's not on any medication.  She's very active, watches what she eats and has always been health conscious."
Perhaps more importantly, she felt it was something she should do.
Pam and Tonya knew one another.  Tonya had also previously worked with Pam's daughter, Brannon Evans, who is also a nurse.
While thinking it over, Pam had several unexpected prompts along the way.
First, her faith as a Christian guided her to help Tonya.  "She just had it on her heart…that is the only way I can explain it," Haley said.  Later, she continued to feel a pull that "something was telling her 'you need to do this,'" her daughter said.
In May of 2016, Pam was in a hospital waiting room as her mother was having knee surgery and picked up a magazine.  "The first couple of pages had an article by a man who had donated a kidney," her daughter said.  "She saw it as another sign."
There were many other little things "that were just speaking to her."
After having the initial blood work done, she proved to be a match and more extensive testing was scheduled.  She underwent three days of testing in November - CTs, x-rays, urine and blood tests and more, Haley said.  "If you ever want a great physical, donate an organ…if there's something wrong with you, they will find it," she joked about the thoroughness of the testing.
Two of the teachers at her school - Kim Peacock and Wendy Guilford - went to see Pam in Jacksonville the day after the surgery and brought her a special gift of handmade cards from their students. The kids had a vague understanding of what was going on medically.  One little boy's card included the happy message, "I'm glad you're able to pee."
• • • •
Although she's groggy and in pain, Pam "has no regrets," according to her daughter.  Her biggest fear was the procedure wouldn't work for Tonya, but as of Monday evening, everything appears to be going well.
Now at home in Blountstown with her husband, Chuck, she is adjusting to a real change of pace as she recovers from the surgery.
"I always knew that she was selfless but this really took it to a different level," Haley said.  "She has always been a very strong person.  I think she got that from my grandparents."
But her daughter laughed that despite the seriousness of the ordeal they've all been through, there have been some funny moments.  Her mother developed a bad case of hiccups after getting home, which were painful, explained Haley. She said she felt so bad for her mom that, "I tried to scare her"  to get rid of the hiccups. It didn't work but eventually, after drinking a lot of water and holding her breath, she managed to make them stop.
• • • •
The Bozeman family was prepared to cover many of their own expenses, although insurance took care of the medical side of it. The Lawrences planned to cover any other costs that came up.  "My mom refused to have them paying for anything," said Haley.  Once they began the process, they discovered there are financial resources to help
donors give a life-saving organ without having to pay for it, too.
"It's amazing how easy the process was from beginning to end," Haley said. "The minute she decided she was going to do it she hasn't really met any obstacles."
Of course, the Lawrence family will still face many expenses during the long recovery process.  Eric Michael Pierce is printing shirts promoting organ donation at cost and donating the proceeds to the family.  The t-shirts feature a Love, Hope & Donate Life slogan on the front and the back reads: "Keep the Faith."
Orders can be placed in Blountstown at Vintage Fade or by contacting Allison Chambers of Clarksville on Facebook.  The shirts start at $16 each.
Tonya Lawrence's experience is also featured in this week's "Sean of the South" column on page 7 of this issue of The Journal.