Woman injured in collision with log truck near Calhoun Co. line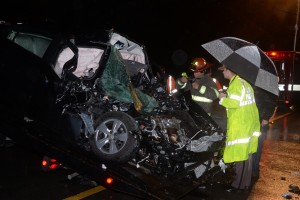 by Teresa Eubanks, Journal Editor
An Indiana woman was hospitalized with serious injuries after she ran into a log truck that pulled onto SR 20 early Friday evening near the Calhoun-Bay County line.
Kashe Moss, 19, was traveling east on SR 20 at 6:25 p.m. when her 2016 Chevrolet Cruze slammed into the driver's side of into a 2011 International log truck that came out from Oak Wood Lane and turned west.
The car collided with the driver's side of the truck, demolishing the car.  Both vehicles came to a stop in the westbound lane of the road.
The truck driver was identified as Delveron Garrett, 30, of Blountstown.  He was not injured.
Moss was transported to Bay Medical Center.
Both drivers were wearing their seatbelts.
Charges are pending.  The crash was investigated by FHP Trooper Brian Gill.