W.R. Tolar School Health Aide arrested after 10 Adderall pills stolen from locked cabinet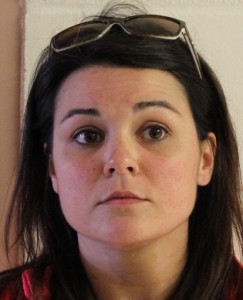 by Teresa Eubanks, Journal Editor
A health aide at Tolar School has been arrested for allegedly stealing medication prescribed for a student, according to a report from the Liberty County Sheriff's Office (LCSO).
Lindsay Lewis, 32, of Bristol was charged with grand theft, burglary and possession of a controlled substance without a prescription on Tuesday, Dec. 27.
While being questioned by LCSO Lt. Chad Smith last November, Lewis admitted she was addicted to Adderall and stated that she had given up her nursing license so she wouldn't be tempted to steal the medication.
Previously employed as a nurse, Lewis worked as a substitute teacher for Liberty County on an as-needed basis for five months in 2014. On Dec. 16 of that year she was hired as a Health Aide. She became a Health Aide II (with benefits) on Nov. 30 of 2015 and worked at W.R. Tolar School.
• • • • •
The sheriff's office began the investigation last September after School Nurse Regina Oswalt discovered ten Adderall pills were unaccounted for.
Oswalt left early on Friday, Sept. 16 to attend a meeting. When she returned to her office the following Monday, she realized the pills had been removed from a locked cabinet.  A student's mother brought in some medication  - including 30 Adderall pills-  around 11 a.m. Friday.  Oswalt said she counted them out before locking them up.
Adderall is a Schedule Two narcotic prescribed to treat attention deficit hyperactivity disorder (ADHD).
During a review of footage from the school's security cameras, Smith saw that Oswalt left for the day around 1:40 p.m.  About three minutes later, Librarian Misty Holcomb brought a child to the nurse's office.  The office door was left open and they remained inside for a little over 13 minutes before exiting.
The camera later showed Lewis enter the nurse's office alone and close the door at 2:05 p.m.  She came out about a minute later, first going to the receptionist's desk to apply a band aid and then walking out of camera range into the bathroom area of the front office.
An hour later, she returned to the reception area and put something in her purse.  She then went back into the nurse's office at 3:02 p.m. to get a peppermint for a student with a sore throat. The student said the health aide did not open any cabinets or doors at that time. Lewis emerged from the office 50 seconds later.
• • • • •
School Resource Officer Brandee Beville reported that after the mother dropped off her child's medicine, surveillance cameras showed that only two school employees - Lewis and Holcomb - entered the office after the nurse left.  Oswalt did not return to her office until Sunday to pickup a makeup bag she had left behind.
Lewis, Holcomb and Oswalt were all sent for urinalysis tests at the hospital.
The three were also asked to take a Computerized Voice Stress Analysis (CVSA) test, which was given on Nov. 2.  Both Holcomb and Oswalt took the test and were quickly cleared of suspicion.  Lewis had agreed earlier to take the test but refused to do so that day, telling Smith that her attorney had advised her against it.
According to Smith's investigation, there was a discrepancy in Lewis' account involving which set of keys she used to enter the locked office that afternoon.
There were two sets; one on the school secretary's desk that did not include a key for the medication cabinet and a second set - kept behind an office door - that held a key to the cabinet.
Lewis originally said the first time that she entered the office that afternoon, she took the keys from behind the secretary's door.  When she was interviewed again, she changed her story and said she used the keys that were on the secretary's desk the first time she went to the office.
That day, School Secretary Tammy Pullam had asked Lewis to help out up front due to a staff shortage.  When Lewis told her she needed to get a band-aid from the nurse's office, Pullam said she motioned for her to take the keys that were on her desk.    Pullam later realized Lewis had entered her office and taken the other set of keys which included the one to the medicine cabinet.  The second time Lewis went into the nurse's office, she used the keys that were on the secretary's desk, according to Pullam.
The ring that held the key to the medication cabinet had a blue tag; the other set, which did not have a cabinet key, had a orange tag.  The investigator noted that the surveillance footage showed that Lewis was using the ring with the blue tag the first time she entered the nurse's office.
During her second interview with Smith, Lewis admitted using the ring that held the key to the medication cabinet.
Lewis said that she had lost her nurse's license due to her addiction and was unable to complete a substance abuse program for nurses.  She acknowledged she had been previously investigated for forging a doctor's name on prescriptions but said it was never proven that she had done so.
When later questioned by Smith, Lewis said she no longer had a problem with pills and regularly bought drug urinalysis tests to hold herself accountable to her husband and her mother.
When the investigator mentioned that the missing drug was Adderall, she began crying.
Following her arrest, she was given a conditional release immediately afterwards.
Her arraignment is set for Feb. 6.