A new era begins for Altha School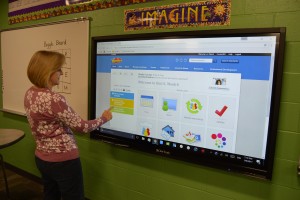 by Teresa Eubanks, Journal Editor
The best thing about Altha's new state-of-the-art school building?
"It brings everybody closer together," says Calhoun County School Superintendent Ralph Yoder.
Until recently, "We had portables on the north and south end of campus.  It created a lot of disjointedness between classes," he explains.
While traveling from the busses to far flung classrooms and other places on campus, kids had to deal with crumbling sidewalks and leaky walkway canopies.
The school has well over 600 students, ranging from kindergarten to 12th grade, now situated in one central area.
The proximity to other classes and equipment will certainly smooth the school day for most but it may be a while before students recognize that. When they returned to school to find their brand new classrooms Monday morning, students were curious, excited and - according to school district employee Vicki Davis - a little stunned.
"The kids were dazed," she said, adding that she overheard a couple of students commenting, "It's just like being in the movies."
It's the technology.
Davis said she was impressed with the quality of the 70 inch interactive panels in each room.  There are more in the media center as well as three others on rolling carts that can be moved around campus. "One is on an articulating stand that transforms into a tabletop," she notes.
Not only will teachers be able to vividly illustrate their lessons on the big screen, many will be recording them as well, according to the school district's Curriculum Technology Instructor Tiffany Nichols.
"What's great about the touchscreen is that it's one device with everything built in," she explains.  "When it records, it doesn't show the teacher or the class but it records everything happening on the screen along with the teacher's voice."
Kids can view the lessons online at home to back up what they're presented with in the classroom.  It also gives parents a way to follow what their children are doing in class and perhaps, help out along the way.
While there are many commercial tutorials available for kids trying to keep up, catch up or get ahead, Nichols points out, "There's no substitute for their own teacher and what was said in class that day."
While one instructor lamented that it took her forever to get used to using an old-fashioned projector in class, Nichols doesn't think it will take long for the staff to get up to speed on the new devices.
"They're not that much different than a smart phone or tablet," she explains.  "It's just big and on the wall."
She's also quick to point out that as she visited the classrooms Monday, "The students were already showing the teachers how to do things with the new equipment."  She notes, "There's much more to come; we can do a lot with the new software."  For now, they're waiting for all the licensing to be finalized.
The change between the old and the new school is nothing less than amazing, according to Altha School Media Specialist Sara Waldorff.
She was so busy enjoying the new media center Monday that she hadn't had a chance to get all her books shelved.  "We have a real TV studio with a dedicated studio and control room," she explains, describing her new work space as one huge area.
"This is so beautiful," she says, commenting that the change is so dramatic, "It's just like night and day."