Funeral director rushed to Shands after falling into New Year's bonfire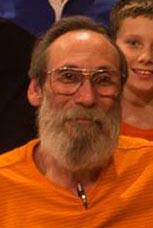 by Teresa Eubanks, Journal Editor
A New Year's celebration at his home along the Chipola River ended with a trip to the emergency room and a flight to Shands Hospital for Marlon Peavy Saturday night.
Peavy, 61, of Blountstown, suffered second and third degree burns on the back of his shoulders and right arm when he fell into a pit where he was building a bonfire, according to his daughter-in-law, Niki Peavy.   She said his hair was also singed and he had a small burn on his leg.
His grandchildren, his daughter and son-in-law had just arrived for a family gathering around 5:30 p.m. and went inside as he tended the fire.  He was tossing a piece of wood onto the bonfire when he tripped and fell into the flames, his daughter-in-law explained.
Peavy's wife,  Debbie, heard a sound outside and asked their son-in-law, Jerry Kollarik, to see that things were OK.   "Jerry found him and was able to pull him out of the fire pit," according to his daughter-in-law.  "His shirt was on fire."
Family members then drove him to the emergency room at Calhoun-Liberty Hospital, where he was stabilized before being transferred to an emergency helicopter and flown to the Gainesville hospital.
"They've got him on a ventilator tube because of the swelling," according to his daughter-in-law on Monday.  "He's woken up enough that he knows he's here and has communicated with us."
By Tuesday afternoon, she reported that his breathing tube had been removed and he is able to talk.  "He says he isn't in any pain and wants to go home," she said. "We're overwhelmed and very grateful for all the phone calls, love and prayers," his daughter-in-law said. "It makes us feel really good to know we've got the community behind us."
The family said arrangements are already in place to keep things going at Peavy's  business, Peavy Funeral Home, as well as the adjoining floral shop.  "Dad really wants everyone to know we're all doing the best we can to keep the funeral home running smoothly," his daughter-in-law said, explaining that some other area licensed funeral directors will fill in as needed and they have help to keep the florist shop running.