Bonifay man arrested for DUI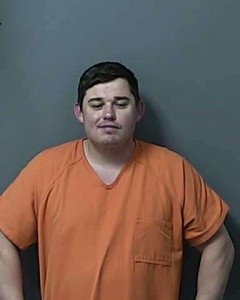 A 34-year-old Bonifay man was charged with driving under the influence after a deputy responding to a report of a suspicious vehicle complaint in Altha saw him repeatedly swerving across the center line of CR 274 East and then veering over the outside edge of the road around 12 a.m. Dec. 29.
Calhoun County Sheriff's Deputy Nick Keller pulled in behind Michael Paul Burke, who was traveling in an F-150 pickup matching the description of the vehicle identified in the complaint.
After pulling the truck over, the deputy approached the driver's side door, noticed the strong odor of an alcoholic beverage and saw that a  beer was sitting in the vehicle's cup holder. Burke's speech was slurred as he responded to the deputy's questions.
A license check showed that the driver had a suspended license due to a previous DUI and was allowed to drive for business purposes only.  After failing to complete a roadside sobriety test, Burke was taken into custody.
He gave one breath sample which resulted in a reading of .163. The legal limit is .08.  Burke refused to give a second required breath sample.
In addition to the DUI charge, Burke was also charged with driving with a suspended license.
When asked why he had been parked in front of an Altha residence for more than 20 minutes earlier that evening, Burke stated he had stopped to use his phone.