SR 12 N closed 7 hours after jet fuel tanker crash in Liberty Co.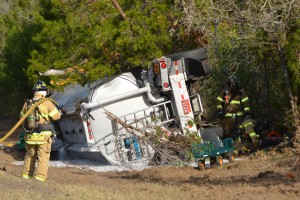 A section of SR 12 North in Liberty County was closed for nearly seven hours Wednesday after a tractor pulling a tanker filled with 7,500 gallons of jet fuel overturned, spilling between 4,500 and 5,000 gallons of fuel in the ditch and a creek.
"It looked like he ran off the road and overcorrected," according to James Kersey of the Bristol Fire Dept.  It happened on a curve between Matthews Lane and the Gadsden County line.  He said local emergency responders were paged out at 12:37 p.m.
The driver was identified as Richard McCall, 56, of Panama City. According to the Florida Highway Patrol report, McCall was eastbound when he went onto the southbound shoulder of the road and the tractor-trailer overturned onto the driver's side.
McCall sustained minor injuries and was up and walking when the ambulance arrived to transport him to Bay Medical Center.
Haz Mat crews coated the tanker truck with Triple F fire retardant spray foam to minimize the fumes and risk of ignition.  Another substance was
also used to seal the leak on the tanker.
"The fuel was spilling out of the top of the truck," Kersey said. "It could have caught fire but luckily, there was no flame source around."
The owner of the tractor-trailer, McKenzie Truck Lines, sent a new tanker to the scene to transfer the remaining fuel.
Liberty County Emergency Management Director Rhonda Lewis said a crew from the Dept. of Environmental Regulation gathered soil and water samples to determine the severity of the fuel spill.
The Florida Highway Patrol was assisted by Liberty and Gadsden County Sheriff's departments, Leon County Hazmat and Gadsden County Hazmat, Tallahassee Fire Rescue, Greensboro Fire Rescue, Sycamore Fire Rescue, Bristol Fire Rescue, Liberty County EMS and Gadsden County EMS, Florida Department of Transportation, Emergency Management Services and Department of Environmental Protection.
McCall was charged with careless driving.  The vehicle was totaled.