Driver facing many charges after racing through Calhoun Co. into Jackson Co.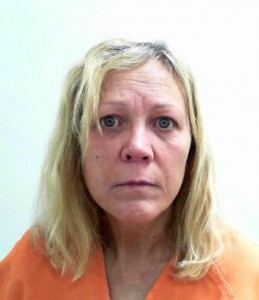 by Teresa Eubanks, Journal Editor
There were plenty of lights flashing along SR 71 on Christmas night but it wasn't from a holiday display.
Two Calhoun County deputies were trying to stop a Marianna woman who was racing north at 96 mph around 8 p.m. Sunday.
Sandra Powell, 53, eluded deputies as she sped through Calhoun County and into Jackson County before she lost control of her car and hit a guard rail.
Deputy Nic Keller was monitoring traffic with his radar near Magnolia VFD when Powell flew past him.
He pulled out to stop the northbound 2009 Toyota Camry but Powell ignored his lights and siren. At that point, Deputy Richard Mayo, who was nearby, began to follow the car.
Keller saw the car swerving into the oncoming lane as it continued racing north into Jackson County, where deputies there joined the pursuit.
Just north of I-10, Powell entered a construction zone, hit a cement guard rail and stopped.  Keller pulled up and blocked her car.
Jackson County deputies removed the woman from the vehicle. Powell, who Keller's report noted smelled strongly of an alcoholic beverage, was then searched by a female officer.  After she was patted down, Powell dropped her pants and defecated on the front bumper of her car before being taken into custody.
According to the Jackson County Sheriff's Office, Powell, who was believed to be under the influence of an unknown substance, was taken to the hospital and later attacked an officer when she was released.
Both counties are charging her with aggravated fleeing or attempting to elude law enforcement and reckless driving.  Jackson County is also charging her with lewd, lascivious exhibition of sexual organs, battery on a law enforcement officer and resisting arrest with violence.
She is being held on $20,000 bond.