Calhoun County Toys for Tots drive provides presents for 435 children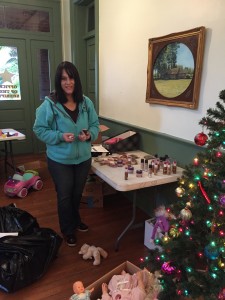 Sheriff Glenn Kimbrel and the staff at the Calhoun County Sheriff's Office provided Christmas for 435 children this year.
More than 2,500 toys were collected and donated by local businesses and individuals and 3,325 supplemental toys were provided by Toys For Tots. We wish we could name everyone who donated toys. Your donations are greatly appreciated.
There were 18 local businesses, including the Sheriff's Office, that volunteered to host collection boxes and/or sell Toys For Tots trains. They include Dollar General (Blountstown and Altha), Golden Pharmacy, West End Quick Pic, Calhoun Public Library Sites (all 6 sites), Clarksville General Store, Connie's Kitchen, Headz Up & Nails 4 U, Blountstown Drugs, Pretty Girlz, Harvey's Supermarket, and students from all of Calhoun County Schools. Stephanie Harris, a student at Altha Public School, headed up the coordination of toy collections in the schools.
Calhoun County Sheriff's Office is overwhelmed with gratitude for all that assisted with this project to ensure that every child had a Christmas. Every donation of toys, money, and/or time made the project a huge success. Thank you again and Merry Christmas! May you be blessed for your giving.
The program would not have been a success if not for the mon
etary donations from the following businesses and individuals:
Marine Corps Reserve Toys For Tots, Helping Hands (donated clothing vouchers to each of the children), Herman Green, Woodmen of the World Chapter 61, Veterans of Foreign Wars, Dixie Lodge #109 F&AM, W.P. Sanborn, Nate and Deborah Drace, Tri-State Termite & Pest Control, LLC, Bill and Christine Peacock, Griffin Sand & Concrete Co., Inc., Calhoun Liberty Employees Credit Union, PeoplesSouth Bank, Wildcats Den, Altha Church of God, Bay Ford, Blountstown Health and Rehab, Clarksville General, Dennis and Juanita Hall, Joseph and Alysa Sams, Gary and Anthy Alexander, Brenda Burnsed, Dowling Parrish, Blountstown Drugs, Gary Bhahkta, Thomas Gary Parrish, Sarah Peterson, Kinard Volunteer Fire Dept., Pastor David and Betty Goodman, Watson Baled Straw LLC and Shelton Trucking Service.