TRUCK CARRYING JET FUEL OVERTURNS ON SR 12 N; ROAD CLOSED
by Teresa Eubanks,
Calhoun-Liberty Journal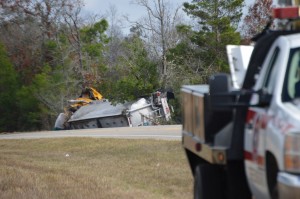 Traffic is stopped near the Liberty County line on SR 12 N as emergency crews await the arrival of a hazardous materials cleanup team from Leon County to deal with a large jet fuel spill.
A tractor trailer pulling a tanker of jet fuel overturned around 1 p.m. today. The driver was taken by ambulance to Bay Medical Center. The extent of his injuries are not known at this time but a bystander said, "he's hurt pretty bad."
"Jet fuel is still leaking out of the ruptured tank, and is extremely volatile," according to Rhonda Lewis, Liberty County Emergency Management Director.
"The road is closed and will be for a while," she said.
Haz Mat crews from Tallahassee are now on scene at the jet fuel spill on SR 12 North in Liberty County. The wrecked truck and fuel tank are shown in the ditch. The road is closed.
A video is available on our facebook page at facebook.com/CLJNews.